Attractions/Things to Do
GUINNESS STOREHOUSE® | Opening Times,Directions |Ireland Tourist Attractions
Dublin Writers Museum
Dublin is famous as a city of writers and literature, and the Dublin Writers Museum is an essential visit for anyone who wants to discover, explore, or simply enjoy Dublin's immense literary heritage. At the Writers Museum, Dublin's literary celebrities from the past three hundred years are brought to life through their books, letters, portraits and personal items. Whatever you think you know about Irish literature, you're sure to find something to astound and delight you at the Dublin Writers Museum. Did you know, for example, that Oscar Wilde was a promising pugilist during his days at Trinity College, and that Samuel Beckett, had he not turned out to be one of the most influential writers of the twentieth century, would also have made a name for himself in the TCD cricket first eleven ? The building, a restored Georgian mansion on Parnell Square, is a treasure in itself. The sumptuous plasterwork in the first floor Gallery of Writers is worth a visit alone.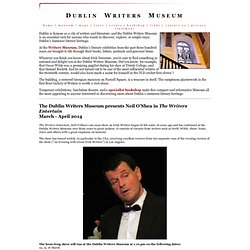 Tuesday - Friday: 11.30am - 5.30pm Saturday: 10.00am - 5.30pm Sunday and Bank Holidays: 12noon - 5.30pm Monday: Closed Last Admission 5.15pm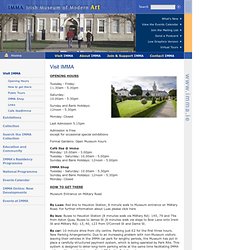 Visit IMMA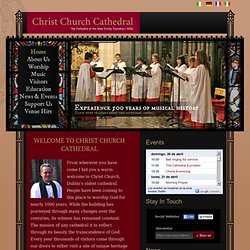 From wherever you have come I bid you a warm welcome to Christ Church, Dublin's oldest cathedral. People have been coming to this place to worship God for nearly 1000 years. While the building has journeyed through many changes over the centuries, its witness has remained constant. The mission of any cathedral it to reflect through its beauty the transcendence of God. Every year thousands of visitors come through our doors to either visit a site of unique heritage or to celebrate with us in our liturgies. Irrespective of denomination, faith or non faith we welcome everyone as a pilgrim and it is our hope that as the pilgrim leaves, he or she will have been touched in some way by the love of God which shines in the beauty of this place.
Christ Church Cathedral Dublin | Dublin Service Times | Dublin Choral Services | Christmas Events