Stem cells
The False Controversy of Stem Cells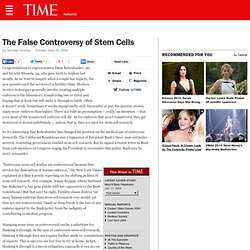 Congratulations to representative Dana Rohrabacher, 56, and his wife Rhonda, 34, who gave birth to triplets last month.
StemCellControversy_Article.pdf (application/pdf Object)
Ethical concerns about embryos in fertility clinics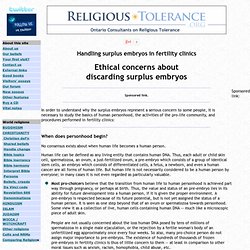 Handling surplus embryos in fertility clinics Sponsored link.
Morality; controversial topics Menu
Human stem cell research: all viewpoints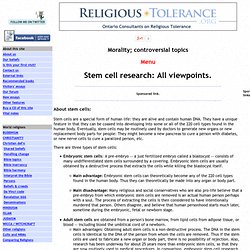 McLaren-EthicalAndSocialDimensions-Nature.pdf (application/pdf Object)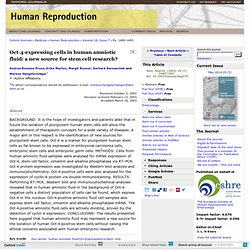 + Author Affiliations 1 To whom correspondence should be addressed. e‐mail: markus.hengstschlaeger@akh‐wien.ac.at Received October 2, 2002. Revision received February 13, 2003.
Oct‐4‐expressing cells in human amniotic fluid: a new source for stem cell research?
10 October 2011 New technique produces one hundred-fold increase in efficiency in reprogramming human cells A SH-iPSC Colony on STO feeders.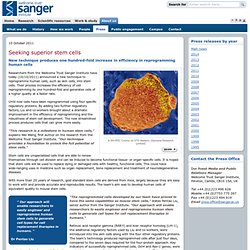 Seeking superior stem cells
The United Nations report into the 14-month uprising against President Bashar al-Assad said government forces routinely drew up lists of wanted people and their families before blockading then attacking a village or neighborhood. "Entire families were executed in their homes - usually the family members of those opposing the government such as the family members of Colonel Riad al-Asaad," it said, referring to relatives of the head of the rebel Free Syrian Army. The rebels, who are increasingly armed and well-organized, have executed or tortured soldiers and government supporters, said the U.N., whose investigators were not allowed into Syria and relied on interviews of victims and witnesses.
Drug May Dampen Dangerous Side Effect of Stem Cell Transplants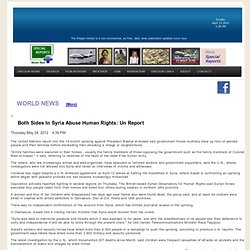 Scalable amounts of liver and pancreas precursor cells created using new stem cell production method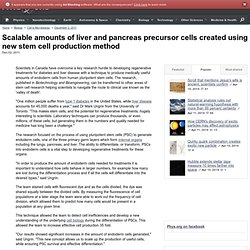 "One million people suffer from type 1 diabetes in the United States, while liver disease accounts for 45,000 deaths a year," said Dr Mark Ungrin from the University of Toronto. "This makes stem cells, and the potential for regenerative treatments, hugely interesting to scientists. Laboratory techniques can produce thousands, or even millions, of these cells, but generating them in the numbers and quality needed for medicine has long been a challenge."
Why Would the Leader in Embryonic Stem Cell Research Drop Out?
If stem cell treatments were a boxing match, Embryonic stem cell treatments would be the 500 lb Gorilla and Adult stem cell treatments would be the small, unknown underdog.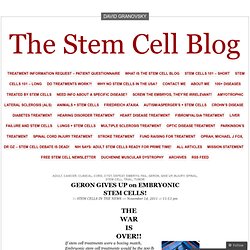 GERON GIVES UP on EMBRYONIC STEM CELLS! « The Stem Cell Blog
to Focus on its Novel Cancer Programs | News releases | Geron
Ageing stem cells from centenarian rejuvenated
Scientists Create Brain Cells From Skin Cells - Stanford breakthrough in mice skips stem cell stage | User Submitted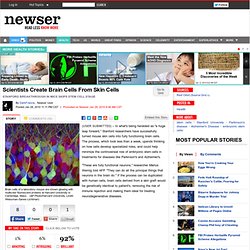 (User Submitted) – In what's being heralded as "a huge leap forward," Stanford researchers have successfully turned mouse skin cells into fully functioning brain cells. The process, which took less than a week, upends thinking on how cells develop specialized roles, and could help minimize the controversial role of embryonic stem cells in treatments for diseases like Parkinson's and Alzheimer's. "These are fully functional neurons," researcher Marius Wernig told AFP.
Dr. Nicholas Boulis adjusts the device that injects stem cells into the cervical area of the spinal cord. For the first time, stem cells are injected into the spinal cord in the neck It is part of a trial to see if the procedure can be safely done "I feel like we finally arrived," says the surgeon who invented a key structure Atlanta (CNN) -- A 50-year-old man from Trion, Georgia, is the first person to be injected with stem cells in the upper part of the spinal cord, making him yet another pioneer in the scientific quest to use stem cells to heal.
Operation marks another step forward in stem cell research