Sew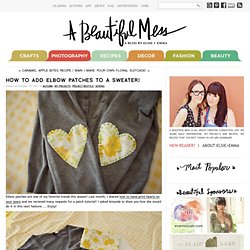 Elbow patches are one of my favorite trends this season! Last month, I shared how to hand print hearts on your jeans and we recieved many requests for a patch tutorial! I asked Amanda to show you how she would do it in this next feature.... Enjoy!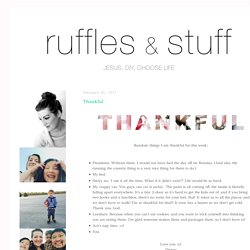 Today I was not doing the "happy" thing. I was doing the "bleah, I feel so blah and depressed for no reason so I'm just going to eat poptarts and browse instagram" thing. I definitely didn't make the most of the daytime. But after the babies went to bed I snuck out to a pottery painting place in town all by myself. It was amazing.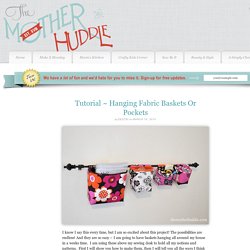 I know I say this every time, but I am so excited about this project! The possibilities are endless! And they are so easy – I am going to have baskets hanging all around my house in a weeks time. I am using these above my sewing desk to hold all my notions and patterns. First I will show you how to make them, then I will tell you all the ways I think you could use them…then you can tell me all the ways I never thought of!
Thanks again Bloom for hosting my tutorial yesterday! I've really enjoyed so many of Bloom's topics since I first found their blog. I especially loved the post on handmade gifts for Christmas, it really helped reign me in and made me realize what was most important - spending time with my children.
fold-over bag tutorial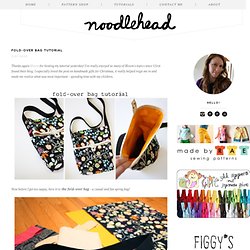 I love the zipper aisle in the craft store. I love all the subtle colors and that is what inspired this bag. I know what you're thinking, but it's not orange!! Don't worry, this one was for my sister-in-law who loves pink, you can see my orange one at the end of this post. The size of the bag you want will decide how many zippers you need. I used 7 zippers, 4 different colors.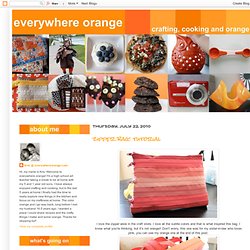 everywhere orange: zipper bag: tutorial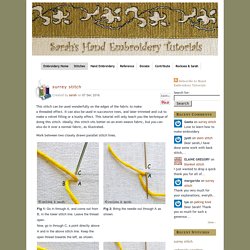 We have been working on our hand embroidery ebook and we would like it to feature some of your works as samples. Please contribute your embroidery work as attachments in the reply/comment box below. Try to upload the images in the highest possible quality, and remember to mention the stitches used, along with your name and location. Selected images will be featured in the book with due credits, and the featured contributors will be gifted a copy of the ebook.
Bracelaces by Itunube — The Lost At E Minor store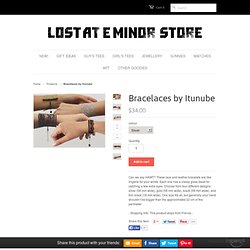 Can we say HAWT? These lace and leather bracelets are like lingerie for your wrists. Each one has a classy glass bead for catching a few extra eyes.
This zip-itself coin purse is truly an amazing and creative handmade design… zip-up to a tetrahedron shaped coin purse, unzip to a long ribbon. This zip-itself coin purse is made from 2 simple materials that you can get from the shop easily – ribbon and zipper. Get the tutorial on how to sew zip-itself coin purse with lining after this jump.
Sew | Zip-Itself Coin Purse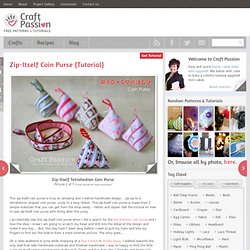 Here is how I made some simple patchwork balls last week, for my children to play with inside. They would make great new baby gifts, too! My daughter (3 yrs) enjoyed helping- choosing the fabrics and stuffing the finished balls. An older child might like to sew them up, too! Materials: small scraps of cotton fabric (I like to use quilter's-weight cotton best, because it's strong and less likely to fray at the seams.)
tiny happy: how to: a simple patchwork ball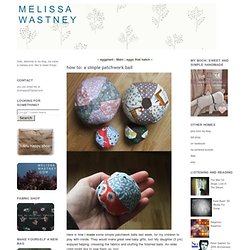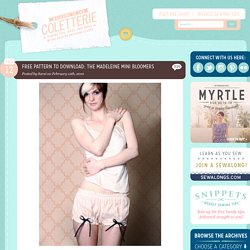 Valentine's day is coming this weekend, and whether you love it or hate it, you must admit having something adorable to lounge around in makes any day that much sweeter. So I present to you the madeleine mini bloomers, a free sewing pattern that you can download! It takes only a yard of fabric (along with some elastic and ribbon), and an hour or two of sewing to whip up these pretties. These are no prim and proper Victorian bloomers, as you can see.
Obscure Animals Alphabet fabric by maile for sale on Spoonflower
It's almost a year since I've started the challenge to create my own wardrobe and written the very first post of The Dress I Made. I've learned a lot from sewing all these clothes, and without this self-induced incentive of writing a blog I would never have started on a wintercoat for example. With making my own skirts, dresses and trousers, I learned about quality too. About the luxury feel of a dress that fits perfectly and about the secret pleasure of a blouse with hidden french seams. Now that I've spent endless hours handstitching hems to attach them invisibly, I recognize (and value) real craftmanship even more.
The dress I made
Kusudama (translated as "medicine ball") were traditionally used as incense and poutpurri, from real flowers or herbs. Decorative kusudama are made by using folded paper origami units glued together. These instructions show how to make a simple kusudama flower. Twelve (12) of these flowers can be glued together to make a ball. Made this origami? Comment and Submit your photo using the comment box at the end of this page!
It looks quite elaborate, but the basic knotting pattern is easy to do. Kenneth King Photo: Kenneth King Kenneth King questions "how'd they do that?" on a belt that looks quite elaborate, and discovers the basic knotting pattern is easy to do.
July 28, 2010 I'm so excited to post about this! When I met Dana, I fell in love with the skirt she was wearing.
I've been doing a fair amount of home cleaning lately, and I think when it's all over, I'd like to reward myself with one of these beautiful woven leather stools. Matt, the immensely talented craftsman behind Wood and Faulk, created this versatile little stool with simple tools and a few raw materials. I love the luxurious, pale leather, and Matt recommends using Danish oil to help bring out the rich tones of the oak and leather, allowing the woven seat to change color over time. I can't wait to see more incredible creations from Matt and am so excited to try this out for myself! — Kate CLICK HERE for the full how-to after the jump!
Design*Sponge » Blog Archive » diy project: matt's woven leather stool
F is for Fennec Fox fabric by maile for sale on Spoonflower