References
Symmetric Alphabet. Symmetric Alphabet Love it!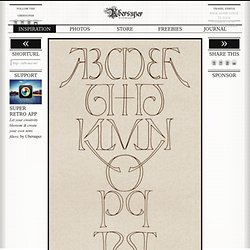 Would love it even more if I could link to the artist/creator. Update: It's made by Scott Kim. Thanks @rbrockerhoff 31st of July 2012. Abandoned Mansion Skeleton in The Philippines. (Image: Aileen Guirnela , cc- nd-3.0 ) Known as "The Ruins", this striking structure in the Philippines is the skeletal remains of the home of young sugar baron Don Mariano Ledesma Lacson.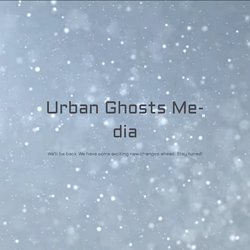 Located in Talisay City, Negros Occidental , the grand house was reportedly set alight by US forces during World War Two in a bid to prevent the Japanese using it as a headquarters. Dating to the 1900s and beautifully preserved as a tourist attraction, the completely see-through Ruins is arguably one of the most wonderful and compelling abandoned mansions in the world. Click here to return to the main article , or keep browsing below. Keep Browsing. 3279093238_0d9f4fc45d_o.jpg (JPEG Image, 486 × 600 pixels) 6a00d8341bf8f353ef0133f0d8bc58970b-550wi (JPEG Image, 530 × 650 pixels) - Scaled (97.
Codex Seraphinianus. RAAD — Branding on the Behance Network. RAAD is an Architeture and Interior Design studio.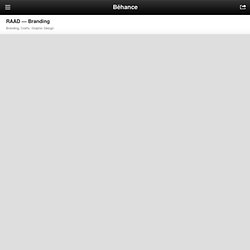 In order to create a visual universe which reflects this duality Pacifica explored an hexagona… Read More RAAD is an Architeture and Interior Design studio. In order to create a visual universe which reflects this duality Pacifica explored an hexagonal shape. This shape fills the space in a natural and perfect way. Example os this are hexagonal basaltic columns formed of cooled lava from ancient volcanic activity in an island in Ireland. B. W. Betts' Geometrical Psychology. Collection of Dances in Choreography Notation (1700) The Dictionary of Obscure Sorrows. L'Inconnue de la Seine. L'Inconnue de la Seine L'Inconnue de la Seine (French for "the unknown woman of the Seine") was an unidentified young woman whose death mask became a popular fixture on the walls of artists' homes after 1900.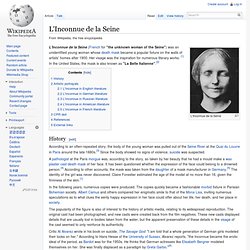 Her visage was the inspiration for numerous literary works. [1] In the United States, the mask is also known as "La Belle Italienne".[2] History[edit] Clicking pictures has never been so much fun! - clikr. Historical Anatomies on the Web: William Cheselden Home. Coolest army! Military Five-Star generals going nuts!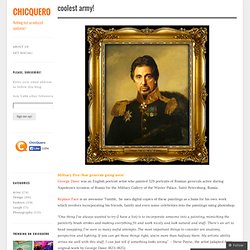 George Dawe was an English portrait artist who painted 329 portraits of Russian generals active during Napoleon's invasion of Russia for the Military Gallery of the Winter Palace, Saint Petersburg, Russia. Replace Face is an awesome Tumblr, he uses digital copies of these paintings as a basis for his own work which involves incorporating his friends, family and even some celebrities into the paintings using photoshop. "One thing I've always wanted to try (I have a list) is to incorporate someone into a painting, mimicking the painterly brush strokes and making everything fit and work nicely and look natural and stuff. There's an art to head swapping, I've seen so many awful attempts. The most important things to consider are anatomy, perspective and lighting.
Giornale Nuovo: Perspectiva. Perspectiva The exhibition review which led me to the work of Giovanni Battista Bracelli (see below), also made intriguing mention of another work, a volume of designs by a German goldsmith called Christoph Jamnitzer.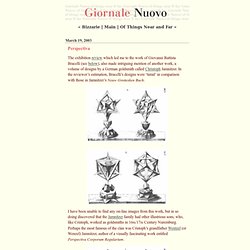 In the reviewer's estimation, Bracelli's designs were 'timid' in comparison with those in Jamnitzer's Neuw Grottesken Buch. I have been unable to find any on-line images from this work, but in so doing discovered that the Jamnitzer family had other illustrious sons, who, like Cristoph, worked as goldsmiths in 16th/17th Century Nuremburg. The Strange Elegance of the Giraffe-Necked Antelope. Found in Eastern Africa ranging from Somalia to Kenya there is a slightly odd looking long-necked creature that is reminiscent of a giraffe but that is one thing it most certainly is not.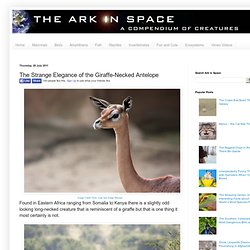 With large eyes and ears and an incredibly slender neck, you may be forgiven for thinking that the Giraffe-necked Antelope was actually thought up in the Disney Studio rather than occurring in the wild steppes of East Africa. This unusual and elegant beast is a great survivor – and it possibly owes its continued existence to its wonderfully long neck. Home > Geometric toy > Origami Spring. Playtype | Typographer's Glossary. Serif: Serif's are semi-structural details on the ends of some of the strokes that make up letters and symbols.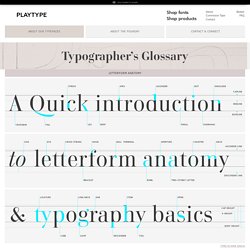 A typeface that has serifs is called a serif typeface (or seriffed typeface). Some of the main classifications of Serif type are: Blackletter, Venetian, Garalde, Modern, Slab Serif, Transitional, and Informal. Fonts in each classfication share certain similiar characteristics including the shape or appearance of their serifs. The Worlds Weirdest Book. A truly unique work of fiction, 'The Codex Seraphinianus' is a book that appears to be a visual encyclopedia of some unknown world or dimension.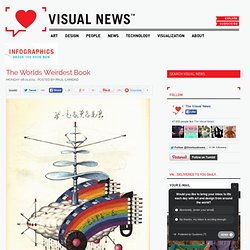 Written down in one of that worlds beautiful curving languages, the book by Italian artist, architect and industrial designer Luigi Serafini, explains the odd inhabitants and their colorful behaviors. The book was created between 1976 and 1978 and for the low price of about $500.00 you can ponder over your own copy… then again, if you can't afford that, check out the video at the bottom.
See Also MOUNTAINS OF BOOKS BECOME MOUNTAINS Via: howtobearetronaut.com. Google Image Result for. ATT00001.jpg (JPEG Image, 600 × 600 pixels) Knots, ties and splices; a handbook for seafare... Art Kleiner _ Suicide. Dear Joan, For 23 years we lived happy together.
Our married life was ideal, until two years ago when I witnessed Kristy die in the hospital something snapped in me. You remember when I returned from the hospital I broke down. That was the beginning of my illness. Since then my condition was getting progressively worse, I could neither work or think logically. Yay Omlets! Wait What? Jimmy Ruska's Blog Funny Pictures Hardest game ever 2Crazy art by GlennzWho needs PhotoshopFun with Pie Charts4chan and the Dark KnightFunny Baby PicturesDangerous JobsWeird Cat is WeirdA Joggers NightmareGuys Vs Girls in the MorningsSee all 41 postsFunny Pictures RSS Categories video tutorials (123)funny pictures (41)amazing videos (27)hilarious videos (26)amazing pictures (21)misc (10)php tutorials (8)computer tricks (7)personal updates (6)cat videos (5)articles (3)youtube tips (3)apache (2)fake news (2)
Aa_views. P02823.jpg (JPEG Image, 3051x1633 pixels) Ss-bear-necessities.jpg (JPEG Image, 700x1050 pixels)
Bugs. The Creators Project | Amon Tobin. 20aafa92-e9fc-4b7d-a424-da9aa80339a0.jpg (JPEG Image, 200x157 pixels) Pine-marten-running-.jpg (JPEG Image, 650x435 pixels) Kohei Nawa. Kohei Nawa <-- Sculptor, Assistant Professor at Kyoto University of Art and Design; Nawa was born in Osaka in 1975. In 2003, he completed the doctoral program in sculpture at the Kyoto City University of Arts, Graduate School, Fine Arts Research. He has developed a diverse array of artwork using a variety of materials that include beads, prisms, silicon oil, expanded polyurethane, and glue, centered on a concept called PixCell=Pixel + Cell, that is based on an awareness of the surface of things.
He is currently in the midst of a number of projects, having launched SANDWICH in Kyoto as a platform for the production and creation side of things. In 2007, Nawa was awarded the Kyoto Prefecture Culture Prize. Hyper realistic sculptures. %28+I+%29Chingado.jpg (JPEG Image, 1000x513 pixels) The Trees that Draws (5 Photos) Posted by rd on Sunday, May 29, 2011 · At first glance I thought, these were sketches of trees. True, except the trees are the ones drawing. That's something you don't see everyday. Wonder how a tree draws? Take this Weeping Willow for example: 100 pens are attached to the branches of a Weeping Willow tree draw onto a circular disc 5.1 metres in diameter and made up of 10 segments. Pantagruel01.jpg (JPEG Image, 624x768 pixels) Image::Michael_Manitz_wildlife_tier_natur_mauswiesel.jpg (JPEG Image, 900x605 pixels) Sensibilities - Myths and Legends of Russia: the Illustrations. 400_F_7740966_V6b5rh8LikI3XQ6JIAYSSFEpc3kTmhF7.jpg (JPEG Image, 400x300 pixels)
Doodle faces. Emerge 04-VII - On the Cutting Edge Exhibition. Green Shadow X - On the Cutting Edge Exhibition. Fox11.jpg (JPEG Image, 634x600 pixels) Buffalo-american-animal_w725_h473.jpg (JPEG Image, 725x473 pixels) Rabbit_skeleton_labeled.gif (GIF Image, 700x508 pixels) Gasser_Fig1-1la.jpg (JPEG Image, 697x505 pixels) Evolvedrawing.jpg (JPEG Image, 704x955 pixels) Hippolka.jpg (JPEG Image, 519x645 pixels) - Scaled (73%) Depression-Era Woodcuts by Lynd Ward, Father of the Graphic Novel - Maria Popova - Life. 12.jpg (JPEG Image, 576x576 pixels) Blog: Printing with Taring Padi. Kunstformen der Natur.
Image Record. Image Record. 13053u.jpg (JPEG Image, 760x1631 pixels) Myth and Legend No 3-Bird that Calls Rain - On the Cutting Edge Exhibition. Smithsonian Institution Libraries : This portfolio of hand-tinted lithographs purports to illustrate the "discovery of life on the moon." In 1836, Richard E. Locke, writing for the New York Sun, claimed that the noted British astronomer Sir John Herschel.
A pessimist is always alone. An optimist is always two people away from a threesome. Bus_to_nowhere0-size-600x0.jpg (JPEG Image, 550x733 pixels) - Scaled (69%) View Images: Weird Science. Domesticated: Wild Animals Trapped In Suburbia. Kinderspiele-20111-a25017894.jpg (JPEG Image, 945x945 pixels)
---