Chola bronzes
Netflix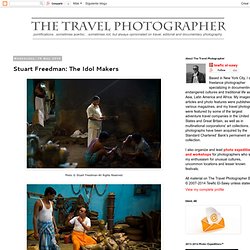 ::: The Travel Photographer :::: Stuart Freedman: The Idol Makers
Photo © Stuart Freedman-All Rights Reserved "In Western art, few sculptors -other than perhaps Donatello or Rodin- have achieved the pure essence of sensuality so spectacularly evoked by the Chola sculptors, or achieved such a sense of celebration of the divine beauty of the human body." - William Dalrymple, Nine Lives Stuart Freedman is an award-winning British writer and photographer whose work was published in, amongst others, Life, Geo, Time, Der Spiegel, Newsweek and Paris Match covering stories from Albania to Afghanistan and from former Yugoslavia to Haiti.
Bronze Casting | India: Shiva Nataraja (Lord of the Dance)
Arts / History & Culture : Priceless treasures of the Cholas
Arts / History & Culture : Priceless treasures of the Cholas
Lost treasures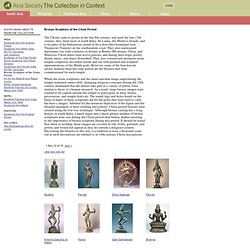 ASIA SOCIETY: THE COLLECTION IN CONTEXT
Bronze Sculpture of the Chola Period The Cholas came to power in the late 9th century, and until the late 13th century, they ruled most of south India, Sri Lanka, the Maldive Islands, and even parts of the Indonesian island of Java from their homeland near Thanjavur (Tanjore) on the southeastern coast. They also maintained diplomatic ties with countries as distant as Burma (Myanmar), China, and Malaysia.
The Sensuous and the Sacred: Chola Bronzes from South India
moolarama.JPG (JPEG Image, 432x288 pixels)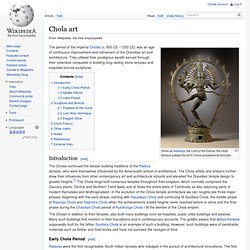 Shiva as Nataraja , the Lord of the Dance, the most famous subject found in Chola processional bronzes The period of the imperial Cholas (c. 850 CE - 1250 CE) was an age of continuous improvement and refinement of the Dravidian art and architecture. They utilised their prodigious wealth earned through their extensive conquests in building long-lasting stone temples and exquisite bronze sculptures. [ edit ] Introduction The Cholas continued the temple building traditions of the Pallava dynasty and elevated the Dravidian temple design to greater heights. [ 1 ] The Chola kings built numerous temples throughout the kingdom. The evolution of the temple architectural styles can be divided into three phases - the early phase starting with Vijayalaya Chola , the middle phase of Rajaraja Chola and Rajendra Chola when the achievements scaled heights never reached before or since and the final phase during the Chalukya Chola period of Kulottunga Chola I and after.
Chola art