Charity Websites
Ripple. Freekibble. -Help Animals- and -Pet Shelters- with a free click! Free Flour Game - Help end world hunger by answering trivia questions for free. Click to Donate - Free donations for rainforest, primates, pets, and more! FreePoverty - Knowing Helps.
Homepage. Help -End Hunger- and -End Poverty- with a free click! A Home & Schooling for Orphaned Girls in India Provide a home and education for orphaned girls on the streets of Calcutta.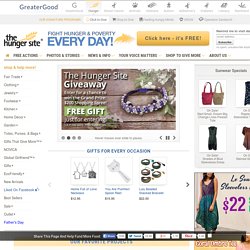 With a hands-on approach, Baal Dan's volunteer staff personally visits orphanages throughout India, where they carefully select the very best environments for orphans and street children. When they can't find such a place, Baal Dan helps develop new facilities, including schools, libraries, and orphanages. This Gift That Gives More sponsors a girl by providing them with good, shelter, medical care, and a quality education.
---