ZOD
Taser stun gun linked to heart attacks - tech - 08 May 2012. Being hit with a Taser stun gun in the chest can lead to cardiac arrest and death, according to a new study.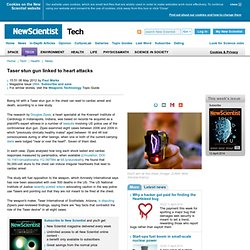 The research by Douglas Zipes, a heart specialist at the Krannert Institute of Cardiology in Indianapolis, Indiana, was based on records he acquired as a plaintiff's expert witness in a number of lawsuits involving US police use of the controversial stun gun. Zipes examined eight cases between 2006 and 2009 in which "previously clinically healthy males" aged between 16 and 48 lost consciousness during or after tasings, when one or both of the current-carrying darts were lodged "near or over the heart". Beaurp's Channel. Audio 911 | Audio-Technica | Dubstep.
Ringo, have a banana! Amp;#x202a;cosmicpanda's Channel‬‏ Good to hear a different interpretation of this piece.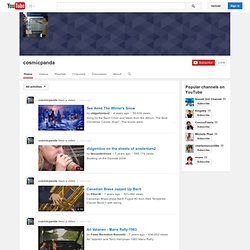 Also good to see this organ on youtube and I have to say that I love the Contra-Trombone at the end, although of course the full effect wouldn't come through my headphones. That being said, the organ is a particularly unforgiving instrument to play. Journal TV - Almanac Newsreels - Trieste riots, Kwajelein captured, convict riots. The moment a brave elephant mum shakes a vicious crocodile off her trunk. Discover your community - DISQUS. TAKE ME AWAY | DUBSTEP. Vimeo.
---