Culture
Rastafarianism grows in Jamaica after long disdain Friday, November 30, 2012 In this November 17, 2012 photo, young and old Rastafarian adherents play drums and chant at Papine square in St Andrew. (Photos: AP) BULL BAY, Jamaica (AP) — The robed Rastafarian priest looked out over the turquoise sea off Jamaica's south-east coast and fervently described his belief that deliverance is at hand.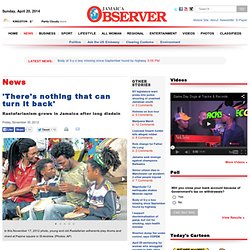 'There's nothing that can turn it back'
The Gullah/Geechee are descendants of West African slaves brought to America to work in rice and cotton fields. Thanks to their relative isolation and strong community life, they've preserved their African cultural history. To this day, they keep the legacy of their ancestors alive, passing on African traditions from one generation to the next. Fishing is a big industry for the Gullah/Geechee people.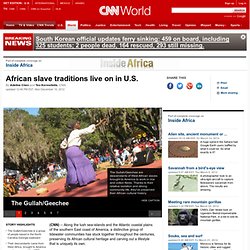 African slave traditions live on in U.S.
Graffiti art targets Kenyan 'vultures'
From Samba to carnival: Brazil's thriving African culture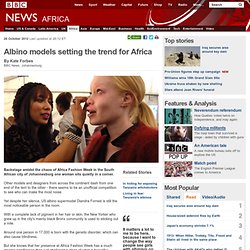 Albino models setting the trend for Africa
26 October 2012Last updated at 20:12 ET By Kate Forbes BBC News, Johannesburg Backstage amidst the chaos of Africa Fashion Week in the South African city of Johannesburg one woman sits quietly in a corner. Other models and designers from across the continent dash from one end of the tent to the other - there seems to be an unofficial competition to see who can make the most noise. Yet despite her silence, US albino supermodel Diandra Forrest is still the most noticeable person in the room.
LOJ T-Shirt by negusgear
Ethiopian shoemaker takes great strides
negusgear
Words by Jesse Serwer, Photo by Beth Lesser— In the spring of 2010, with Vybz Kartel's "Clarks" reaching peak rotation levels, I published a story in The Guardian tracing the long-running connection between the iconic British footwear brand and Jamaican music. With reports of Clarks-driven robberies and rampant bootlegging coming in from Jamaica, the company's spokespeople admitted to me that a surge in sales of Clarks Originals seen at the time might have had something to do with the popularity of Kartel's tune.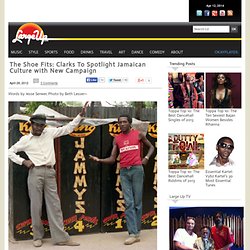 The Shoe Fits: Clarks To Spotlight Jamaican Culture with New Campaign « LargeUp
VIDEO: Rastas livid!
ANOTHER incident involving a flag at a public event has sparked anger. This time, it was at the Jamaican premiere of Marley, the new documentary on the life of reggae icon Bob Marley, at Emancipation Park in St Andrew on Thursday. Protesting Rastas express their displeasure at the use of the colours of the Ethiopian flag — red, green and gold — as a carpet at Thursday's premiere of the documentary Marley at Emancipation Park in Kingston. Not even the addition of other colours could appease the group. (Photo: Joseph Wellington)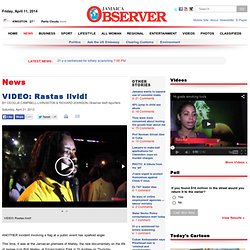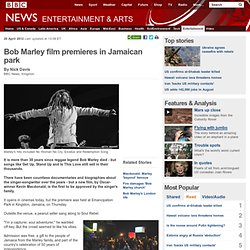 Bob Marley film premieres in Jamaican park
20 April 2012Last updated at 13:09 ET By Nick Davis BBC News, Kingston Marley's hits included No Woman No Cry, Exodus and Redemption Song It is more than 30 years since reggae legend Bob Marley died - but songs like Get Up, Stand Up and Is This Love still sell in their thousands. There have been countless documentaries and biographies about the singer-songwriter over the years - but a new film, by Oscar-winner Kevin Macdonald, is the first to be approved by the singer's family. It opens in cinemas today, but the premiere was held at Emancipation Park in Kingston, Jamaica, on Thursday.
British Broadcasting Corporation Home Accessibility links Religions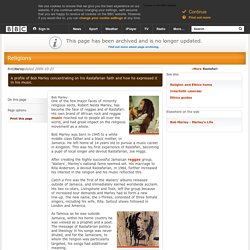 Religions - Rastafari: Bob Marley
The Terrible Truth About Facebook
Ode to Jamaica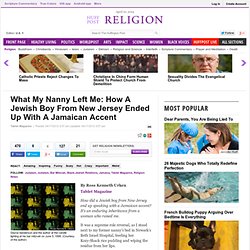 What My Nanny Left Me: How A Jewish Boy From New Jersey Ended Up With A Jamaican Accent
By Ross Kenneth UrkenTablet Magazine How did a Jewish boy from New Jersey end up speaking with a Jamaican accent? It's an enduring inheritance from a woman who raised me. It was a supreme role reversal, as I stood next to my former nanny's bed in Newark's Beth Israel Hospital, feeding her Kozy-Shack rice pudding and wiping the residue from her lips. No longer a boy with a neat auburn bowl-cut, I was now an unruly-haired 20-something with a thick Semitic beard. Looking like an ancient Levite, I stood in sharp contrast to the others in Dezna's hospital room -- the Caribbean churchwomen from her Seventh Day Adventist congregation who sang hymns, held my hands, told me about Jesus and gave me a book about the afterlife.
Coca-Cola Smile Back Jamaica
Kenyan Chief Francis Kariuki mobilizes his community using Twitter, despite the lack of Internet access. The chief sends out tweets, which residents get in the form of a text message He also tweets to alert residents about missing animals and share doses of encouragement Residents in his town don't need a smart phone or Web access to get the messages Study: About 57% of tweets from Africa are sent from mobile devices (CNN) -- A Kenyan chief in a town far from the bustling capital foiled a predawn robbery recently using Twitter, highlighting the far-reaching effects of social media in areas that don't have access to the Internet. Chief Francis Kariuki said he got a call in the dead of the night that thieves had broken into a neighbor's house. He turned to Twitter, which allows users to send messages in 140 characters or less, to reach his community instantly.
Kenyan chief foils robbery via Twitter, highlights reach of social media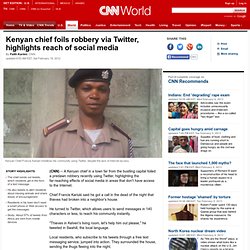 Know the Maroons in Jamaica: Courage, Resistance & a Reclaiming of African Culture & Identity | Orijin Culture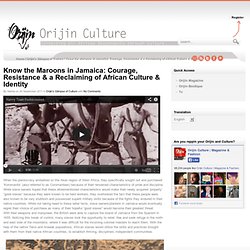 When the plantocracy embarked on the Akan region of West Africa, they specifically sought out and purchased 'Koromantis' (also referred to as Coromantees) because of their renowned characteristics of pride and discipline. While slave owners hoped that these aforementioned characteristics would make their newly acquired 'property' "good slaves" because they were known to be hard workers, they overlooked the fact that these people were also known to be very stubborn and possessed superb military skills because of the fights they endured in their native countries. While not taking heed to these latter facts, slave owners/planters in Jamaica would eventually regret their choice of purchase as many of their hopeful "good slaves" would become their greatest threat. With their weapons and manpower, the British were able to capture the island of Jamaica from the Spanish in 1655.
Douglas Rushkoff: U.S. Postal Service new example of human work replaced by technologyHe says technology affecting jobs market; not enough workers needed to run the technologyHe says we have to alter our ideas: It's not about jobs, it's about productivityRushkoff: Technology lets us bypass corporations, make our own work -- a new model Editor's note: Douglas Rushkoff is a media theorist and the author of "Program or Be Programmed: Ten Commands for a Digital Age" and "Life Inc: How Corporatism Conquered the World and How We Can Take it Back." (CNN) -- The U.S. Postal Service appears to be the latest casualty in digital technology's slow but steady replacement of working humans. Unless an external source of funding comes in, the post office will have to scale back its operations drastically, or simply shut down altogether.
Creating glamor in Nigeria's ghettos
3 September 2010Last updated at 02:41 ET By Finlo Rohrer BBC News, Washington The drownings shocked the community and sparked a campaign A month ago, six African-American teenagers drowned in a single incident in Louisiana, prompting soul-searching about why so many young black Americans can't swim. When 15-year-old DeKendrix Warner accidentally stepped into deeper water while wading in the Red River in Shreveport, he panicked. JaTavious Warner, 17, Takeitha Warner, 13, JaMarcus Warner, 14, Litrelle Stewart, 18, Latevin Stewart, 15, and LaDarius Stewart, 17, rushed to help him and each other.
Why don't black Americans swim?