Art Inspiration
Get flash to fully experience Pearltrees
Humanity has an obsession with its own destruction. From countless religions, myths, legends and doomsday predictions, humanity has always been curious about what the Earth would be like without us. Based on the Earth's past, it almost seems inevitable that natural destruction will occur at some point, and man-made methods of destruction exist as well. In this post, we'll look at 51 breathtaking, post-apocalyptic wallpapers that show artistic representations of what Earth would look like after a cataclysmic event. From memorable scenes like what would be seen in movies like I Am Legend or 28 Days Later, to more dystopian and forboding environments, you'll be left mesmerized by the incredible detail in these artworks.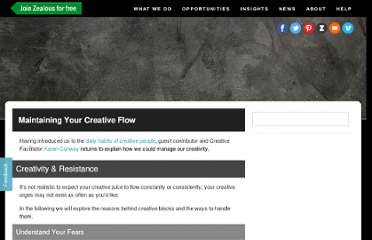 Graduate Shows: Gathering Feedback Getting feedback validates your effort, and helps you understand how your audience perceives what you do, helping you learn from and evolve for your next show.There's many ways of getting feedback from people viewing your work, but there are 2 rules that hold true for all methods: Make it obvious, let your audience know they can interact with the method of feedback, tell them so in large writing above the space reserved for them. The easier the method of feedback the more likely people will leave their mark
Is your concept art portfolio versatile or confusing?
The following videos are excerpts from demonstrations within the Visual Literacy Program (VLP) at www.visualliteracyprogram.com .