Email marketing
Why won't my Firefox open PDF files. Flipping typical. Mad Mimi Email Marketing. The best way to embed a font in your website – @font-face. We are all bored of using the same small set of web safe fonts in our websites.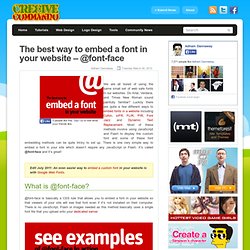 Do Arial, Verdana, and Times New Roman sound painfully familiar? Luckily there are quite a few different ways to embed fonts in a website including Cufon, sIFR, FLIR, PIR, Font Jazz and Dynamic Text Replacement. Common fonts to all versions of Windows & Mac equivalents (Browser safe fonts) - Web design tips & tricks. Last updated: 2008/06/03 Return to the main page Introduction Here you can find the list with the standard set of fonts common to all versions of Windows and their Mac substitutes, referred sometimes as "browser safe fonts".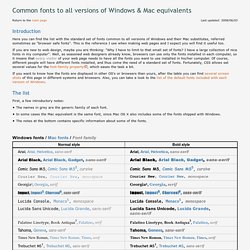 This is the reference I use when making web pages and I expect you will find it useful too. If you are new to web design, maybe you are thinking: "Why I have to limit to that small set of fonts?
---