ADVERTISING
Infoletter May 2009 - Dalton Maag. ...and the library grows Last autumn Lukas Paltram, a young designer from Vienna, Austria, joined us for a three month work experience.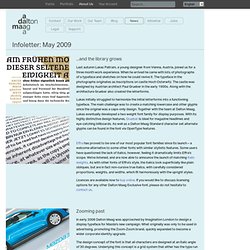 When he arrived he came with lots of photographs of a typeface and sketches on how he could revive it.
TACKLEBOX. SUBdV. Razorfish: The Agency for Marketing, Experience & Enterprise Design for the Digital World. Droga5. Syrup. **SOFTlab** Adham Dannaway. Alexander Pincus - 2010.
---