How to make Booze
How to Make Beer - Making Beer at Home. Making a mash is not always necessary--you can brew a perfectly good lager or ale with prepackaged malt extract.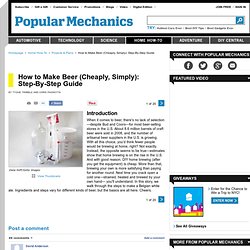 But for this recipe, we're going all out, with an all-grain beer-- we extract the sugars from the grain ourselves. The recipe we're following is for a beer in the Belgian white or "wit" sytle. It's called "Wit Ginger, Not Mary Ann," and was published by the esteemed beer-brewing magazine, Zymurgy. How to Homebrew - HomeBrewing.com. By HomeBrewing.com Staff Check out our pictographic of the all-grain homebrew process.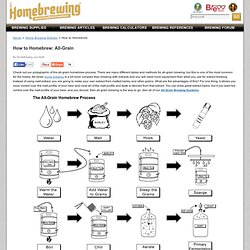 There are many different styles and methods for all-grain brewing, but this is one of the most common for the hobby. All-Grain home brewing is a bit more complex than brewing with extracts and you will need more equipment than what you use for extract brewing. A Recipe for Mead. A Recipe for Mead Elizabeth Scheyder This is a good recipe for beginners – the quantity fits in an empty gallon wine jug, and you won't spend a fortune on ingredients or equipment.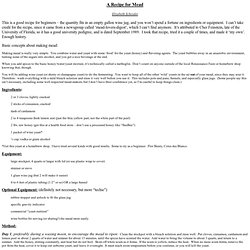 DIY Juice to Alcohol Kit.
---