Spirit
Psychedelics and Altered States
Moved January 11, 2013UncategorizedNo Comments I've moved most of my activity to Google+ where, among other things, I have set up a Psychedelic Research Community. Come join us there!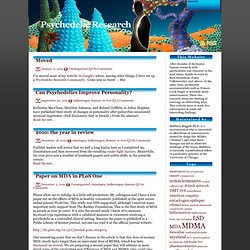 Multidisciplinary Association for Psychedelic Studies
Therapeutic Psychedelics and Drug Policy
Chimbre
Immer noch entdecken viele Anleger die Vorteile der Investition in Gold. Kein Wunder ist doch der Goldkauf ein guter Schutz vor Inflation. Dieses Wissen bringt natürlich nicht nur Vorteile, sondern ruft auch Menschen auf den Plan die nicht unbedingt nur ehrliche Absichten hegen und den Goldhype für ihr Geschäft nutzen möchten. Vermehrt nutzen nämlich Shopping-Kanäle die Gunst der Stunde um überteuerte Sammlermünzen an den Mann zu bringen. Doch eignen sich diese tatsächlich als Anlagemünzen? Vor diesem Hintergrund muss man sich selbstverständlich erst einmal die Frage stellen, was eine Anlagemünze überhaupt ausmacht.
Conference News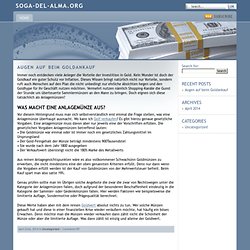 Blue Morpho Ayahuasca center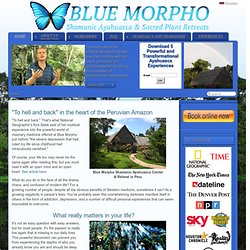 "To hell and back" in the heart of the Peruvian Amazon Blue Morpho Shamanic Ayahuasca Center & Retreat in Peru "To hell and back." That's what National Geographic's Kira Salak said of her mystical experience into the powerful world of visionary medicine offered at Blue Morpho just before "the severe depression that had ruled my life since childhood had miraculously vanished." Of course, your life too may never be the same again after reading this, but you must read it with an open mind and an open heart. See article here:
Located in Peru, these retreats are for people who wish to be healed, find their path in life, understand their purpose, to remember the true wisdom within us all. Ayahuasca retreats involve trips to remote jungle camps to receive treatment from authentic indigenous healers, called curanderos. Ayahuasca ceremonies form the roots of the retreats, but the treatments also include more specific remedies for each participant, either to treat particular ailments, or to strengthen their spirits and determination…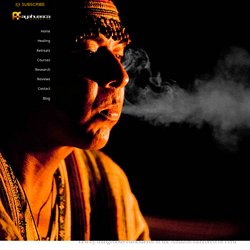 Ayahuasca Foundation | Preserving the Ancient Science of Plant Spirit Healing in the Amazon Rainforest
Toltec Center of Creative Intent
SHAMANISM | Explore. Learn. Discover.
It is a direct experience of spiritual knowledge. Because of the direct nature of the work, it tends to facilitate growth in every religious faith. People will share shamanic experiences in groups, but the insight you gain from shamanic practice are unique to you. As a healing practice shamanism has been very powerful for both the people of today and those reaching back into the beginnings of recorded history. The reason that it is so powerful is because each healing is tailored to the needs of the individual being healed.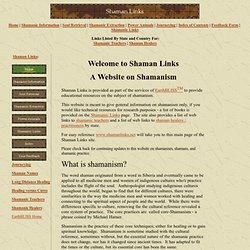 Shaman Links - Information on Shamanism, Links to Shamanic Teachers and Shaman Healers By State
Wednesday, August 13 – Sunday, August 17, 2014 This SSP international gathering will offer a valuable and unique opportunity to experience shamanic living. "…The well-known Native American Vision Quest is an example of ceremonial time alone dedicated to seeking inner knowledge and direction from the spirit world. Saints and mystics from all religions are equally known for their long stays in nature, isolated from the business of everyday life." Jose Luis Stevens Read the article Going Solo in Nature by Jose Luis Stevens Ph.D.HERE.
Society for Shamanic Practitioners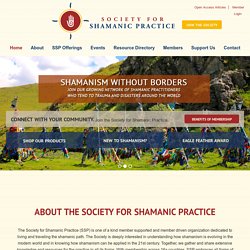 Frank Fools Crow was a Lakota Sioux spiritual leader, Yuwipi medicine man and the nephew of Black Elk. He was instrumental in negotiating the end of the insurrection at Wounded Knee ... in 1973. Born on the Pine Ridge Reservation near Wounded Knee in South Dakota, he quit school in the third grade so he could work in order to help to support his family. As a young man he traveled around the United States with the Buffalo Bill Cody Wild West Show, and in 1983, he presented the fifth and current Chief Illiniwek Indian regalia to the University of Illinois.
Shaman Portal - The resource for all things shamanic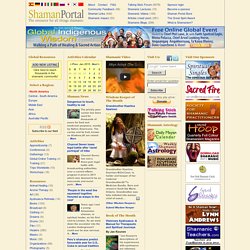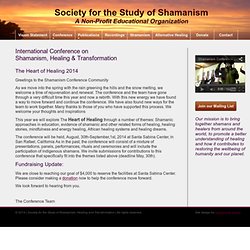 The Heart of Healing 2014 Greetings to the Shamanism Conference Community As we move into the spring with the rain greening the hills and the snow melting, we welcome a time of rejuvenation and renewal. The conference and the team have gone through a very difficult time this year and now a rebirth.
Society for the Study of Shamanism, Healing and Transformation ~ 2010 Conference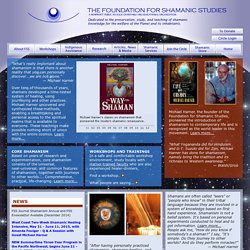 "After having personally practiced shamanism, shamanic healing, and shamanic journeying for more than half a century, I can say that there is nothing I have encountered in reports of the spiritual experiences of saints, prophets, psychedelic drug experimenters, near death survivors, avatars and other mystics that is not commonly experienced when following classic journey methods using a drum." — Michael Harner Shamans are often called "seers" or "people who know" in their tribal language because they are involved in a system of knowledge based on first hand experience. Shamanism is not a belief system. It's based on personal experiments conducted to heal and to get information. Learn more...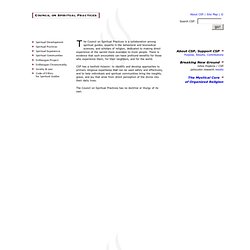 he Council on Spiritual Practices is a collaboration among spiritual guides, experts in the behavioral and biomedical sciences, and scholars of religion, dedicated to making direct experience of the sacred more available to more people. There is evidence that such encounters can have profound benefits for those who experience them, for their neighbors, and for the world. CSP has a twofold mission: to identify and develop approaches to primary religious experience that can be used safely and effectively, and to help individuals and spiritual communities bring the insights, grace, and joy that arise from direct perception of the divine into their daily lives.
The Institute of Transpersonal Psychology | Graduate Education at the Frontier of Psychology and Spirituality since 1975
​Featured Programs Bachelor of Arts Completion Sofia University's new undergraduate program features two bachelor of arts completion degrees which offer engaged and rigorous academic experiences while keeping the whole person at its core. Sofia's undergraduate degrees provide the analytic, technological and human tools to work with information across and among disciplines.
Cutting-edge articles from around the world on transpersonal topics. Welcome to the International Journal of Transpersonal Studies web site! The Journal is published semi-annually both online as an open access journal (available on this website) and in print (produced on demand through Lulu Press: to purchase, go to www.lulupress.com and enter the term IJTS into the search window at the top). The submission of relevant scholarly articles, book reviews, comments, or letters of response to papers published in the journal are welcome.
Home - International Journal of Transpersonal Studies
"Self Actualization is the intrinsic growth of what is already in the organism, or more accurately, of what the organism is." Abraham Maslow Maslow studied healthy people, most psychologists study sick people. The characteristics listed here are the results of 20 years of study of people who had the "full use and exploitation of talents, capacities, potentialities, etc.."
Zen, Buddhism, and Personality
Zen, Buddhism, and Personality Buddhism began in India in 6th century BC. Arose out of a dissatisfaction with the Hindu tradition Based upon the Teachings of Siddhartha Gautama, the Buddha Buddha = One who is awake, one who has
101 Zen Stories
Soyen Shaku, the first Zen teacher to come to America, said: "My heart burns like fire but my eyes are as cold as dead ashes." He made the following rules which he practiced every day of his life. In the morning before dressing, light incense and meditate.