Skincare Organic
Laboratoires Pierre fabre - Accueil. KLORANE | Le pouvoir des plantes. KLORANE | Le pouvoir des plantes. Beiersdorf - the global skin and beauty care company - Our Brand. Unnamed. Johnson & Johnson - Health Care Products & Pharmaceuticals. Consumer Health Products - Johnson & Johnson. Our Consumer segment includes a broad range of products used in the baby care, skin care, oral care, wound care and women's health care fields, as well as nutritional and over-the-counter pharmaceutical products, and wellness and prevention platforms.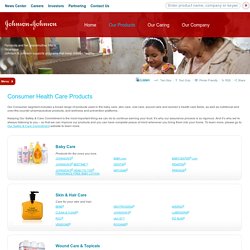 These products are marketed to the general public and sold to retail outlets and distributors throughout the world. The Consumer business relies on a research strategy equally rooted in technology and consumer insights, in keeping with our vision: BRINGING SCIENCE TO THE ART OF HEALTHY LIVING TM Keeping Our Safety & Care Commitment is the most important thing we can do to continue earning your trust.
It's why our assurance process is so rigorous. La Roche-Posay. SANOFLORE - Cosmétiques bio - Lait de toilette hydratant Visage. Yves Rocher - Cosmétique Végétale® Yves Rocher, cosmétique végétale, parfums, maquillage, beauté na. Our Products. Poupina. Gel Lavant Surgras Corps & Cheveux - 750 ml Conçu pour le corps et les cheveux, ce gel nettoie tout en douceur et respecte les épidermes les plus sensibles.
Sa formule haute tolérance, sans colorant, SANS PARABEN et sans savon, ne pique pas les yeux. Enrichie d'un extrait d'Amande douce nourrissante, elle laisse sur la peau un film protecteur anti-dessèchement qui redonne équilibre et confort aux peaux sèches. Les cheveux sont doux et délicatement parfumés. Skin Care Ingredients - How Safe are the Ingredients in Your Bab. Do you ever wonder what is in skin care products such as baby wash, shampoo or lotion that you put on your baby?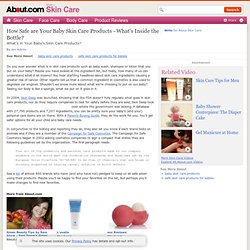 Maybe you have looked at the ingredient list, but really, how many of us can understand what it all means? You hear startling headlines about skin care ingredients causing a greater risk of cancer. Other reports tell us that a common ingredient in cosmetics is also used to degrease car engines. Shouldn't we know more about what we're choosing to put on our baby? Seeing our body is like a sponge, what we put on it goes in it. About.com: Keys_Skin_Care.pdf (application/pdf Object) Skin care products for Dry, Sensitive, Eczema and Problem Baby S. :. I G T I .:. PRODUCTS * Humana baby-fit 2 * .:
Unnamed collection
Chicco skincare products. Chicco skincare products. Chicco Baby Bathing & Skin Care. Mustela World-wide. Babygella skincare products. Beaute France, sale of beauty products - Product of hygiene, hea. Sale product Baby Care. Sale product Hygiene, Baby Care. Philips AVENT - Country selection page. Avent skincare products. Avent Baby Body & Hair Wash : Read reviews and compare prices at. Maclaren | Global.
---