Financial
Real Estate
Follow the money: Bailout tracker - CNNMoney.com. CNNMoney.com is tracking developments in the economic rescue as they happen.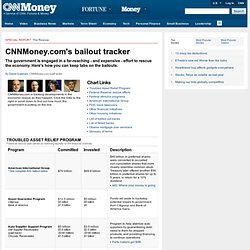 Click the links to the right or scroll down to find out how much the government is putting on the line. Troubled ASSET RELIEF PROGRAM Financial rescue plan aimed at restoring liquidity to the financial markets.
Federal Reserve
Blogs I follow. Calculated Risk Chart Gallery. Perot Charts » Charting Government Fiscal Irresponsibility. Economics. Markets.
---