Intellectual
Mistaken Identity. In 1903, a prisoner named Will West arrived at Leavenworth.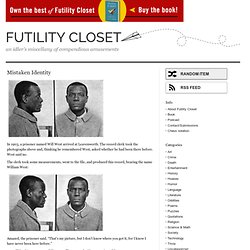 The record clerk took the photographs above and, thinking he remembered West, asked whether he had been there before. West said no. The clerk took some measurements, went to the file, and produced this record, bearing the name William West: Amazed, the prisoner said, "That's my picture, but I don't know where you got it, for I know I have never been here before."
Incredibly, this was true. Te map. Your Age on Other Worlds. Looking at the numbers above, you'll immediately notice that you are different ages on the different planets.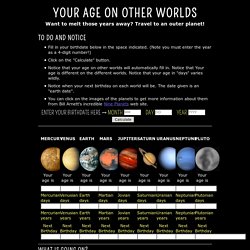 This brings up the question of how we define the time intervals we measure. What is a day? What is a year? The earth is in motion. Actually, several different motions all at once. XVIVO. Virtual Body.
---