Home energy display
Is the smart meter roll-out a good idea? Many of you clearly have concerns about smart meters, which is why we're campaigning on this issue and will be for some time to come.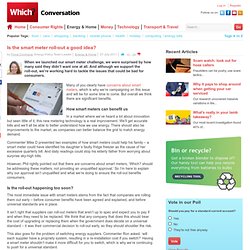 But overall we think there are significant benefits. How smart meters can benefit us In a market where we've heard a lot about innovation but seen little of it, this new metering technology is a real improvement. We'll get accurate bills and we'll all be able to better understand how we use energy. Voltalis. Programme Une Bretagne d'avance 2010-2011. Affichage de la consommation et économies d'énergie (étude) Devoir de vacances: rédiger une synthèse des connaissances actuelles sur l'impact que peut avoir l'affichage de la consommation en terme d'économie d'énergie chez le commun des mortels.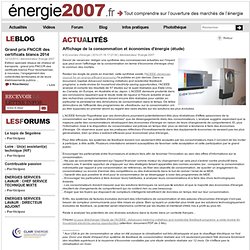 Restez les doigts de pieds en éventail, cette synthèse existe, l'ACEEE (American council for an energy-efficient economy) l'a publiée en juin dernier. Dans ce document, baptisé Advanced metering initiatives and residential feedback programs: a meta-review for household electricity-saving opportunities, l'ACEEE analyse et compile les résultats de 57 études sur le sujet réalisées aux Etats Unis, au Canada, en Europe, en Australie et au Japon.
L'ACEEE demeure prudente dans ses conclusions rappelant que le doute reste de rigueur à l'heure actuelle et que des recherches complémentaires doivent encore être réalisées pour valider en particulier la persistance des diminutions de consommation dans le temps. What makes a good home energy display? | Projects | Centre for S. Exploring consumer preferences for energy display designs 'In-home energy displays' are increasingly popular gadgets that show you how much electricity your home is using.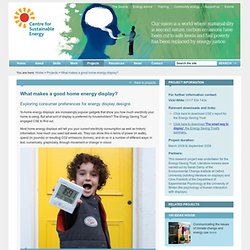 But what sort of display is preferred by householders? Will consumers plug into home energy displays? | Green Tech - CN. Dozens of home energy monitors are coming to market, but nobody knows whether only hybrid Prius owners will use them.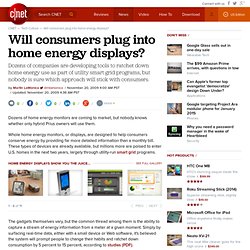 Whole home energy monitors, or displays, are designed to help consumers conserve energy by providing far more detailed information than a monthly bill. These types of devices are already available, but millions more are poised to enter U.S. homes in the next two years, largely through utility-run smart grid programs. The gadgets themselves vary, but the common thread among them is the ability to capture a stream of energy information from a meter at a given moment. Spotlight on Whitehall energy waste (Press Release)
Energy meters in all 18 Whitehall headquarters can now be tracked by the public online in real time, Greg Barker and Francis Maude announced today.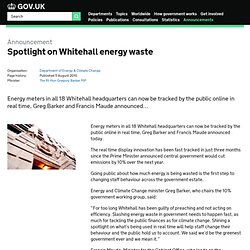 The real time display innovation has been fast tracked in just three months since the Prime Minister announced central government would cut emissions by 10% over the next year. Going public about how much energy is being wasted is the first step to changing staff behaviour across the government estate. Energy and Climate Change minister Greg Barker, who chairs the 10% government working group, said: "For too long Whitehall has been guilty of preaching and not acting on efficiency. Home. Monitoring Citoyen (aka CityWatt) DIY / Physical computing / Electonics.
---