Meals for 2
Pesto stuffed shells. It should be obvious by now that I love to stuff things (Pepperoni Stuffed Chicken, Cranberry Walnut Stuffed Pork Loin, Stuffed Poblano Peppers).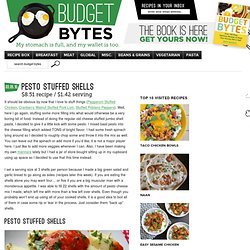 Well, here I go again, stuffing some more filling into what would otherwise be a very boring bit of food. Instead of doing the regular old cheese stuffed jumbo shell pasta, I decided to give it a little kick with some pesto. Parmigiano Panko Herb Encrusted Chicken Breasts. This is my version of Italian Fried Chicken.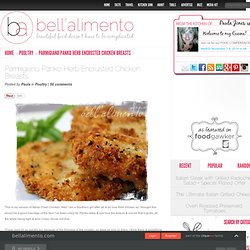 Well I am a Southern girl after all & do love fried chicken so I thought this would be a good marriage of the two! I've been crazy for Panko lately & just love the texture & crunch that it gives, all the while being light & airy! Toasted Ravioli with Marinara Sauce. I'm not usually big on fried foods but I had a hankering for something crispy and cheesy.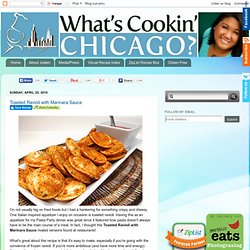 One Italian inspired appetizer I enjoy on occasion is toasted ravioli. Having this as an appetizer for my Pasta Party dinner was great since it featured how pasta doesn't always have to be the main course of a meal. Mozzarella Sticks. When I told my friends I was planning on making homemade mozzarella sticks for a guy's weekend out of town the idea was met with a profound lack of enthusiasm.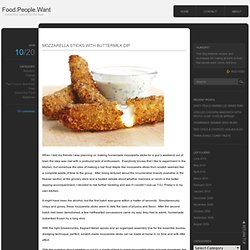 Everybody knows that I like to experiment in the kitchen, but somehow the idea of making a bar food staple like mozzarella sticks from scratch seemed like a complete waste of time to the group. After being lectured about the innumerable brands available in the freezer section at the grocery store and a heated debate about whether marinara or ranch is the better dipping accompaniment, I decided to risk further heckling and see if I couldn't one-up T.G.I. Friday's in my own kitchen. Hot Spinach and Artichoke Dip.
It seems that I may be a little addicted to hot cheesy dips.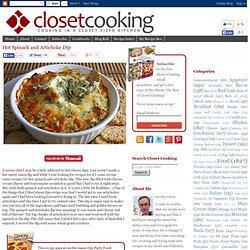 Last week I made a hot sweet onion dip and while I was looking for recipes for it I came across some recipes for hot spinach and artichoke dip. This new dip filled with cheese, cream cheese and mayonnaise sounded so good that I had to try it right away. But, with both spinach and artichokes in it, it is just a little bit healthier. ;) One of the things that I liked about this recipe was that I would get to use artichokes again and I had been looking forward to doing so. Honey spice chicken thighs. So, I got a really excellent deal on chicken thighs this week – $0.99 / lb.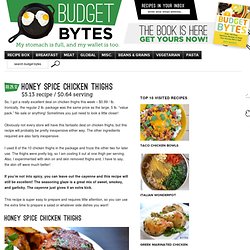 Ironically, the regular 2 lb. package was the same price as the large, 5 lb. "value pack." Cheesy Bacon Oven Chips with Chipotle Ranch Sauce. Ok so I can hardly contain my excitement for the Super Bowl tonight, and I decided that a special weekend like this deserves a double post!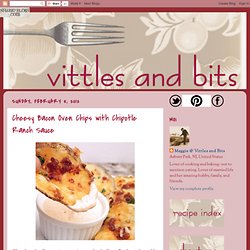 Mr. Vittles and I had an appetizer similar to this at a restaurant recently, and I thought I might be able to replicate it at home. Well, all I can say is - sorry if you had any health-related New Years resolutions, because I'm pretty sure you will not be able to keep them with these puppies around. The dipping sauce really takes things to the next level. White Cheddar Grilled Cheese with Avocado and Tomato. Friday, March 23, 2012 White Cheddar Grilled Cheese with Avocado and Tomato You guys know that often I fall into kicks of certain foods or meals.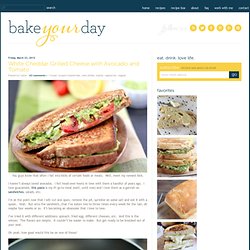 Well, meet my newest kick. I haven't always loved avocados. Chicken and Asparagus Rolls. Skinny Coconut Shrimp. Golden baked coconut encrusted shrimp with a sweet and spicy apricot dipping sauce.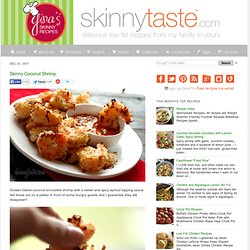 Set these out on a platter in front of some hungry guests and I guarantee they will disappear!! "The best coconut shrimp I ever had" to quote my husband, that's how good these are, and he didn't even touch the dipping sauce! These will absolutely be making an appearance at my Christmas Eve dinner this year.
I tried these using all egg whites but the crumbs stuck better with a whole egg, as for the flour, you will only use about 1 tbsp worth so that is what I calculated. Chipotle style Cilantro Lime Rice. Have you ever been a situation when you wanted to throw out all things complicated - be it from serious life to career issues to as simple as clearing out a crumpled up wardrobe to your bookshelf?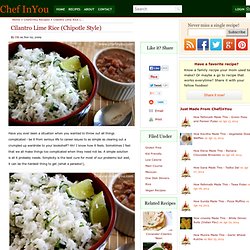 Ah! I know how it feels. CREAMY BACON CARBONARA. When I die and go to heaven . . . I sure hope they're serving this. If you want a fast but ultra delicious meal in just minutes, this is the dish. Balsamic Roasted Tomatoes Recipe. Hudson's Baked Tilapia with Dill Sauce Recipe. Creamy Cilantro Potato Salad - in a Wrap! Vegan Red Potato Cilantro Salad Wrap Not only does this creamy Cilantro Red Potato Salad taste delicious on its own – but try it in a healthy wrap for breakfast lunch or a light dinner. Creamy cilantro, warm spices, bold flavors and crunchy veggies accent tender red potatoes. And this recipe is much healthier than you might think! Healthy Potatoes. Glazed pork chops.
---