Alcoholic
How to brew cheap wine | Thai Girls: Hotter than Thai Food. Preface: I've never done this before, and I'm totally inexperienced about brewing.
I did a little bit of research online and found this was the easiest and cheapest way to brew wine, which seems like the easiest of all alcoholic drinks to make. Follow these directions at your own risk Like the title says, this method of brewing is not expensive (cost me roughly $12. This will make me 2-3 gallons of wine. maybe more), but the returns aren't for connoisseurs. This is for cheap-asses, college kids, and 15 year olds who can't buy anything themselves. Bourbon Pumpkin Pie Milkshakes. Uhhh yes… why yes, I am posting a "recipe" for a milkshake.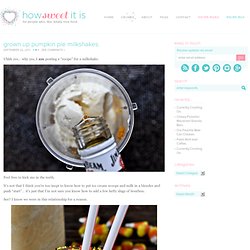 Feel free to kick me in the teeth. It's not that I think you're too inept to know how to put ice cream scoops and milk in a blender and push "start"… it's just that I'm not sure you know how to add a few hefty slugs of bourbon. See? I knew we were in this relationship for a reason. Ooooh and I also really enjoyed this (some would say too much) and didn't want you to go a day without it. 21 Jello Shot Recipes for College Students. Jello Shots have been a staple of college partying for years now, so we felt like it was finally time to move past the original recipe.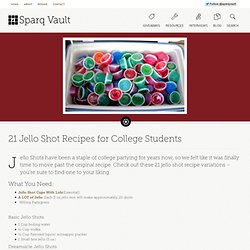 Check out these 21 jello shot recipe variations – you're sure to find one to your liking. What You Need: Jello Shot Cups With Lids(Essential!) A LOT of Jello. Each 3 oz jello box will make approximately 20 shots. Drink recipes: 32000 mixed drink alcohol cocktail recipes. 10 Jello Shots Worth the Hangover. Lemon Drop Jell-O Shots. Lemon Drop Jell-O Shots ~ Get your tailgate on with these fun jello shots re-envisioned into lemon wedges.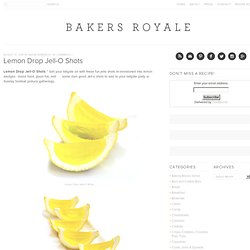 Good food, good fun, and . . . some darn good Jell-o shots to add to your tailgate party or Sunday football potluck gatherings. Lemon Drop Jello-O Shots Lemon Drop Jell-O Shots. Margarita Jello Shots. It seems like all of my blog posts about cocktail creations start when I visit with my sister....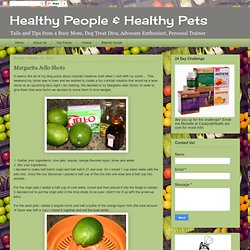 This weekend my sister was in town and we wanted to create a fun cocktail creation that would be a wow factor at an upcoming taco night I am hosting. We decided to try Margarita Jello Shots! In order to give them that wow factor we decided to serve them in lime wedges. Patio Daddio Sangria. Easter Basket Cocktail. Gayer than a Cosmopolitan?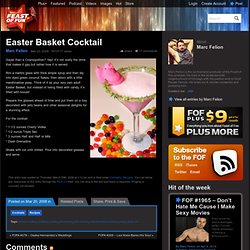 Yep! It's not really the drink that makes it gay but rather how it is served. Rim a martini glass with thick simple syrup and then dip into dyed green coconut flakes, then adorn with a little marshmallow peep. Blueberry Infused Vodka Lemonade. Every time my fiancé and I go down to visit his family in NC, his dad ribs me about all the rednecks we come across.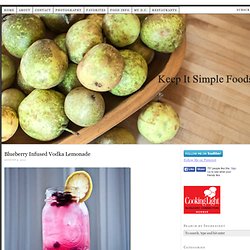 Like I'm some fish-out-of-water, ain't never seen no rednecks before, "city girl." I always have to remind him that I hail from East Tennessee where the moonshine flows steady and the rednecks are aplenty. Heck, I grew up learning all the versus of Rocky Top (yeah, there's more than one and a chorus) and, when necessary, I can speak with more twang that Reese Witherspoon in Sweet Home Alabama.
Don't doubt my hillbilly street cred.
---