WEBDOCS
Google Streetview stop motion. PROD. Le blog ! » Prison Valley nominé au World Press Photo 2011. Prison Valley est finaliste du célèbre World Press Photo 2011, catégorie Interactive multimedia.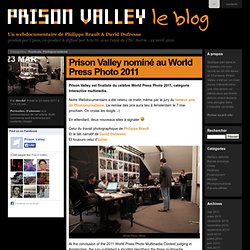 Notre Webdocumentaire a été retenu ce matin même par le jury du fameux prix de Photojournalisme. La remise des prix aura lieu à Amsterdam le 7 mai prochain. On croise les doigts ,-) En attendant, deux nouveaux sites à signaler Celui du travail photographique de Philippe Brault Et le lab narratif de David Dufresne. The 6 Most Innovative Interactive Web Documentaries. Digital platforms are expanding the field of the traditional documentary, not only in terms of the distribution of linear stories, but especially in the production of content created specifically for the web.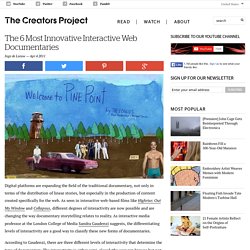 As seen in interactive web-based films like Highrise: Out My Window and Collapsus, different degrees of interactivity are now possible and are changing the way documentary storytelling relates to reality. As interactive media professor at the London College of Media Sandra Gaudenzi suggests, the differentiating levels of interactivity are a good way to classify these new forms of documentaries.
Outils. ARTICLES sur le webdoc. ETRE AUTEUR. ONCF canada. Formation. Exemples 01. PRODUIRE TRNSMD. Exemples 02. TRANSMEDIALABs.
Interactif – Office national du film du Canada. BEST OF.
---