PRODUIRE TRNSMD
Producteurs
Nuno bernardo. Who is the Transmedia Producer | mayazuckerman.com Blog. Posted in Blog on Tuesday, November 8th, 2011 at 6:29 am When I first heard the concept of Transmedia something awoken in me.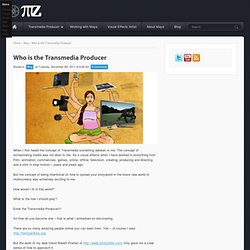 The concept of orchestrating media was not alien to me. As a visual effects artist I have worked in everything from Film, animation, commercials, games, online, offline, television, creating, producing and directing and a stint in stop motion – years and years ago. But the concept of being intentional on how to spread your storyworld in the brave new world of multiscreens was extremely exciting to me.
Produire, développer
Dummies Guide to Writing a Transmedia Production Bible. OK not really a Dummies guide as there are some complex elements in here, but one has to use whatever memes are in vogue A few weeks ago I was commissioned by Screen Australia to write a very basic structure & guide for producers relatively new to multi platform content to structure & document their propositions, after they have developed the 'audience centric' concepts.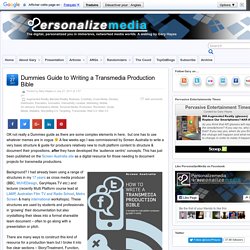 This has just been published on the Screen Australia site as a digital resource for those needing to document projects for transmedia productions. Simon Staffans: How to make your Transmedia project a reality. July 4, 2011 OK, so your transmedia concept is ready to go.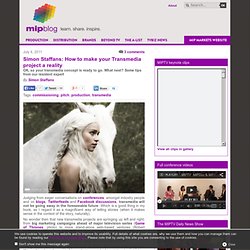 What next? Some tips from our resident expert By Simon Staffans Judging from eager conversations on conferences, amongst industry people and on blogs, Twitterfeeds and Facebook discussions, transmedia will not be going away in the foreseeable future. MEDIA France. Qui peut déposer ?
Sociétés éligibles : toute société originaire d'un pays membre du Programme MEDIA, ayant pour activité principale la production d'œuvres audiovisuelles et/ou interactives, indépendante (i. e. sans lien déterminant avec un diffuseur). Expérience requise :
Marketing trnsmd
Hollywood Second-Guessing Comic-Con, Could Viral Marketing Be Next? The New York Times ran a piece yesterday about how movie studios are taking a more cautious approach to this year's San Diego Comic-Con.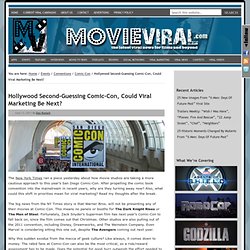 After propelling the comic book convention into the mainstream in recent years, why are they turning away now? Also, what could this shift in priorities mean for viral marketing? Read my thoughts after the break. The big news from the NY Times story is that Warner Bros. will not be presenting any of their movies at Comic-Con. Les programmes transmédia s'apprêtent à débarquer. Une série de TF1 dont les téléspectateurs peuvent influencer le scénario sur le blog de l'héroine.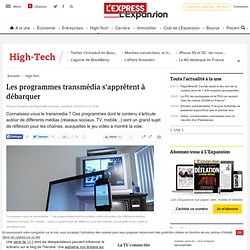 Une websérie non-linéaire sur Arte, dont les personnages existent sur Facebook et Twitter, et dont les spectateurs peuvent naviguer entre une centaine de modules diffusés sur le web et le mobile, dans l'ordre ou le désordre. Un jeu qui s'articule autour d'un site communautaire, d'une série télé et d'un jeu de cartes à collectionner... Tous ces objets audiovisuels non identifiés ont un point commun : ce sont des contenus transmedia. Un vocable encore peu répandu, mais qui correspond à une évolution bien réelle du divertissement, à l'heure du téléspectateur et de l'internaute multitâches.
Il ne faut toutefois pas confondre le transmedia avec le crossmedia, qui consiste à décliner un même contenu sur plusieurs plateformes. Ma "big interview" dans Technikart. En décembre dernier, le magazine Technikart a publié la "big interview de Henri Verdier" dont Cap Digital a mis en ligne une version PDF.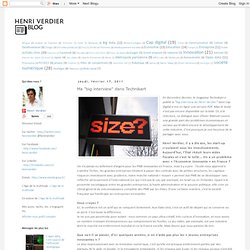 Mais le texte n'est pas encore disponible sur la toile. Or, à la relecture, ce dialogue avec Olivier Malnuit couvre une grande part des problèmes économiques et sociaux qui brident encore le développement de cette industrie. C'est pourquoi je suis heureux de le partager avec vous. Henri Verdier, il y a dix ans, les start-up croulaient sous les investissements.
Aujourd'hui, l'Etat réduit leurs aides fiscales et c'est le tollé… On a un problème avec « l'économie innovante » en France ? The Pixel Lab 2011. The Pixel Lab 2011 The Cross-Media Workshop with the support of the MEDIA Programme of the European Union, Medienboard, TorinoFilmLab, Skillset Film Skills Fund, ARTE, MEDIA Antenne Berlin-Brandenburg.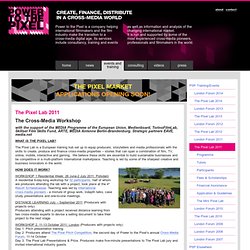 Strategic partners EAVE, media.net The Pixel Lab is a European training hub set up to equip producers, storytellers and media professionals with the skills to create, produce and finance cross-media properties – stories that can span a combination of film, TV, online, mobile, interactive and gaming. ARTE Creative - your network for contemporary culture. Spécial transmédia – ressources et hyperliens. Le 18 décembre dernier, l'an passé déjà, Karine Halpern (KH pour les intimes Twitter), qui se défini comme Cross-Media Maker*Observer*Certified Cultural Promoter* a organisé un rendez-vous (meet up – Transmedia Ready) pour le moins inusité.
Une expérience transmedia orchestrée par Pierre Côté, homme aux multiples chapeaux. Bref, un rendez-vous ambitieux sur le transmedia, avec les joueurs impliqués. Expérience « live », multi-skype, chat ustream, feed Twitter etc. Le tout sur du multi-écrans, plateformes, je me perds. Promouvoir le contenu Transmedia. Promouvoir le contenu Transmedia janvier 14, 2011 Mise à jour 15/01 À l'heure actuelle, nous sommes à la pointe de l'iceberg créatif du Transmedia ; il y a déjà eu certaines implémentations intéressantes, mais ce n'est rien comparé à ce que nous verrons au cours des prochaines années et au-delà.
En conséquence, il semble presque absurde de sauter la question du développement du Transmedia pour examiner comment les fils des histoires Transmedia – ces parties d'histoires non primordiales qui ajoutent à la narration globale – devrait être commercialisées. Or, c'est précisément le débat que j'ai eu sur Twitter avec et la semaine dernière. Blogomadaire. VOD, Netflix capte 30% du trafic Internet américain. Selon une étude publiée par Sandvine, le service de location de vidéo en ligne Netflix est devenu si populaire aux Etats-Unis qu'il représente aujourd'hui 30% (29,7 exactement) de la consommation de la bande-passante américaine.
«Netflix est désormais le roi indiscutable de la bande passante en Amérique du Nord», note l'étude. Pour ses auteurs, cette bascule confirme que «nous sommes désormais dans l'âge de la vidéo par Internet». VODO - free-to-share films available through bittorrent. Measuring Return on Investment in Transmedia. It's becoming increasingly common to create free content or experiences to publicize the release of a paid product. For example, a comic book give-away or web video series as a prequel to a AAA game or an ARG (alternative reality game) for a movie. There are those who wonder if this free content is only for the benefit of existing consumers/fans who would buy the paid content in any case… and hence the question arises "why bother"?
The presentation below explains why free content & experiences make good business sense and how it can be cost-justified (a) if the goals are known [increased awareness, increased advocacy, increased revenue, improved insights] and (b) there is a content strategy to support the goals. Transmedia Talk Podcast – Episode 9. By robert pratten, November 4th, 2010 robert pratten Robert Pratten is CEO and Founder of Transmedia Storyteller Ltd, an audience engagement company and provider of Conducttr, an pervasive entertainment platform. He has more than 20 years experience as an international marketing consultant and has established himself as a thought-leader in the field of transmedia storytelling. He is author of the first practical book transmedia storytelling: Getting Started in Transmedia Storytelling: A Practical Guide for Beginners.
L'industrie du jeu vidéo parie sur des oeuvres transmedia. Sur un marché ultra compétitif, comment faire pour vendre un jeu au-delà de sa cible traditionnelle ? La réponse du moment : faire du jeu une œuvre transmedia, avec tout autour des « compléments d'histoire » (BD, roman, jeu ad hoc sur les médias sociaux etc.). C'est en tout cas la stratégie marketing de Homefront, FPS qui sort en mars 2011 et qui était présenté, la semaine dernière, à Paris Game Week Du storytelling dans les FPS.
---
transmediaready Feb 13 2011

Yes ! transmedia ready ! join the plans : Barcamp à Marseille en Mai ?
---