HTML5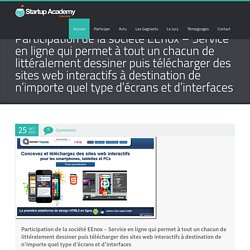 Participation de la société EEnox – Service en ligne qui permet à tout un chacun de littéralement dessiner puis télécharger des sites web interactifs à destination de n'importe quel type d'écrans et d'interfaces
Site : http://eenox.net/ Quel problème essayez-vous de résoudre ? Eenox est un nouveau service en ligne qui permet à tout un chacun de littéralement dessiner puis télécharger des sites web interactifs à destination de n'importe quel type d'écrans et d'interfaces (smartphones, tablettes et ordinateurs) en se basant sur des technologies d'avant garde telles que l'HTML5 et le CSS3 qui seront les nouveaux piliers du web de demain. L'avantage de la plateforme Eenox est qu'elle ne requiert aucune connaissance technique particulière. Les particuliers et les entreprises peuvent l'utiliser et se concentrer sur l'aspect esthétique, design et interactif de leurs projets créatifs et non sur les aspects techniques.
Canvas is a HTML5 element which can be used to draw graphics via scripting (JavaScript). For example, it can be used to draw graphs, make photo compositions or even perform animations. learn more MultiTouch Wall, rss parser
Circle Of Trust
DinahmoeSTHLM on Vimeo
craft skin viewer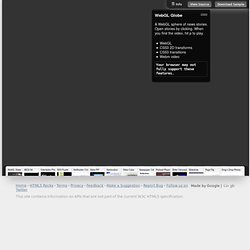 HTML5 Studio
⧉ Info WebGL Globe A WebGL sphere of news stories. Open stories by clicking. When you find the video, hit to play.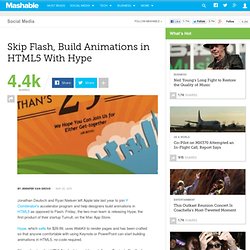 Jonathan Deutsch and Ryan Nielsen left Apple late last year to join Y Combinator's accelerator program and help designers build animations in HTML5 as opposed to Flash. Friday, the two-man team is releasing Hype, the first product of their startup Tumult, on the Mac App Store. Hype, which sells for $29.99, uses WebKit to render pages and has been crafted so that anyone comfortable with using Keynote or PowerPoint can start building animations in HTML5, no code required. "It's pretty clear that HTML5 is the future of the web," says Deutsch. "It will, of course, run not only on desktop machines but also runs really well on any modern smartphone or tablet like the iPad. The problem is that there are no good designer apps for creating animated HTML5 like there are for Flash."
Skip Flash, Build Animations in HTML5 With Hype
Element Index
How HTML5 Will Transform the Online Video Landscape
The Future Web Series is supported by Elsevier's SciVerse Application Marketplace and Developer Network. The SciVerse applications platform enables developers to build apps based on trusted scientific content. Learn more. One of the most exciting — and polarizing — aspects of HTML5 is the specifications for HTML5 video. The promise of HTML5 is immense; no longer just a markup language, as robust applications can be built and deployed using the power of the browser.