Exemples 02
Darfur is Dying is a viral video game for change that provides a window into the experience of the 2.5 million refugees in the Darfur region of Sudan. Players must keep their refugee camp functioning in the face of possible attack by Janjaweed militias. Players can also learn more about the genocide in Darfur that has taken the lives of 400,000 people, and find ways to get involved to help stop this human rights and humanitarian crisis.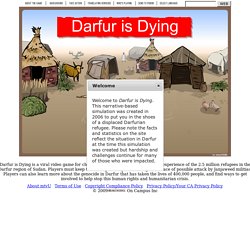 The Project Factory
SCAM WEBDOC
Welcome to Tourist Paradise
Herzlich Willkommen im Paradies der Diktatoren Die IGFM und Leo Burnett stellen in einem Online-Spiel der heilen Urlaubswelt die politische Realität entgegen Frankfurt am Main (7. Dezember 2010) – In vielen Urlaubsländern wie Kuba, Ägypten oder China sind Menschenrechtsverletzungen an der Tagesordnung. Trotzdem erfreuen sich diese Länder bei Pauschalreisenden großer Beliebtheit.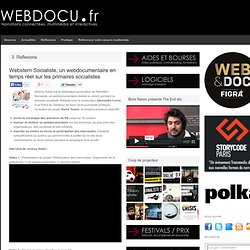 Jérémy Sahel est le réalisateur-producteur de Webstern Socialiste, un webdocumentaire réalisé en direct, pendant la primaire socialiste. Réalisé avec le producteur, Alexandre Cornu (Les Films du Tambour de Soie) et le journaliste politique, co-auteur du projet, Samir Tounsi, ce projet a plusieurs objectifs : écrire la chronique des primaires du PS jusqu'au 16 octobretourner et réaliser un webdocumentaire sur les primaires, au plus près des organisateurs, des candidats et des militantssusciter ou mettre en forme la participation des internautes (militants, sympathisants ou autres) qui seront invités à poster sur le site leurs commentaires ou leurs vidéos pendant la campagne et le scrutin Interview de Jeremy Sahel : Vidéo 1 : Présentation du projet / Participation des internautes / Ergonomie de la plateforme / Live-webdocumentaire / Logiciels utilisés
Summify - Webstern Socialiste, un webdocumentaire en temps réel sur les primaires socialistes
Seven Days - Channel 4
Little Burma, le pays clandestin
Addicts (2011) - France - Vincent Ravalec
Le dernier docu provocateur de Morgan Spurlock décliné en série web sur Yahoo!
Le réalisateur de Super Size Me (2004), Morgan Spurlock, est boulimique depuis quelques temps. Il a réalisé pas moins de six documentaires ces deux dernières années pour la télévision et le cinéma. Freakonomics, le film est sorti en France au début de l'année.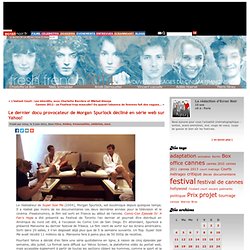 Storming Juno | WEBDOCU.fr, webdocumentaires et nouvelles formes de reportage
Un webdocumentaire canadien sur le D-day. Le jour du débarquement, l'armée américaine occupait un front, les Anglais un autre, et au milieu, les troupes canadiennes, premières à avoir essuyé le feu ennemi. Développement : secret location Ce webdocumentaire est basé sur un mélange d'images d'archives, de reconstitution et d'interview.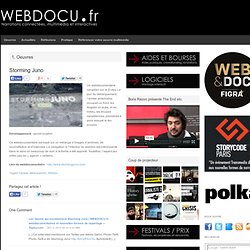 La Déséducation - Bande Annonce
The Waiting Room | A Film & Social Media Project About Health Care
TEASER WEBDOCUMENTAIRE "LA JEANNE - ULTIME EMBARQUEMENT" - une vidéo Voyages