ZenCart
Zen Cart Management. Effective store management for your Zen Cart-based online store.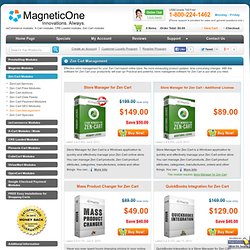 No more exhausting product updates, time-consuming changes. With this software for Zen Cart your productivity will soar up! Practical and powerful, store managemet software for Zen Cart is just what you need. Multisite Zencart Module. Updating Attribute Pricing - Zen Cart Support. That Software Guy, Inc. - Zen Cart Tips and Tricks - boilerplate text in description. Relevance: Zen Cart™ 1.3.0 - 1.3.9, 1.5.x.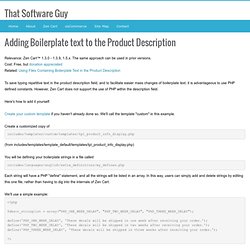 The same approach can be used in prior versions. Cost: Free, but donation appreciated Related: Using Files Containing Boilerplate Text in the Product Description To save typing repetitive text in the product description field, and to facilitate easier mass changes of boilerplate text, it is advantageous to use PHP defined constants.
---