Tough_Country
Tough Country Bloggin! Tough Country Products, Official Site for America's Best Replacement Bumpers. Tough Country Products | Headache Rack, Front Replacement Bumper, Rear Bumper, Step Bar, Running Board, Brush Guard, Grille Guard. Iron Bull Winch Bumpers. : : : : : : : : : : ALIEN-PATROL : : : : : : : : : : Share this .COM deal with friends!
Over 53 million domains registered. Copyright © 1999-2012 GoDaddy.com, LLC. All rights reserved. BUCKSTOP Truckware - Heavy-Duty Winch Bumpers for Ford, Dodge, Chevy Trucks and SUVs. Winch Ready. Winch Ready is a family owned business founded in 2005 by J D Distributing.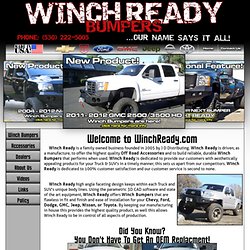 Winch Ready is driven, as a manufacture, to offer the highest quality Off Road Accessories and to build reliable, durable Winch Bumpers that performs when used. Winch Ready is dedicated to provide our customers with aesthetically appealing products for your Truck & SUV's in a timely manner, this sets us apart from our competitors.
---