CSS and JavaScript
Free web development tutorials gallery for web developer and designer.
Download Javascripts
How to add Floating share box to your website
advertisement After spending couple of hours searching for floating share box plugin for WordPress , I finally decided not to use plugins. Those plugins were not good enough to produce what I thought of like menus on Mashable or Hongkiat .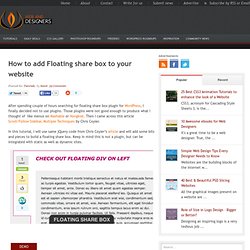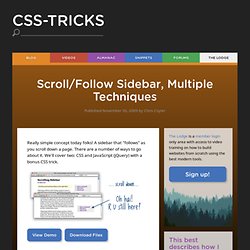 Scroll/Follow Sidebar, Multiple Techniques
Published by Chris Coyier Really simple concept today folks! A sidebar that "follows" as you scroll down a page. There are a number of ways to go about it. We'll cover two: CSS and JavaScript (jQuery) with a bonus CSS trick. View Demo Download Files
UPDATE 1/14/2012: Added Batman.js and Angular.js due to popular demand and because they looked impressive. Over the last several months I have been in a constant search for the perfect javascript MVC framework. Driven by a dire need for the right level of abstraction and features, I have tried out - some more cursorily than others - every framework I could get my hands on. Here lies a brief synopsis of each framework. Lastly, I share the framework which I ultimately decided on. Specifically, the following four features are very important to me: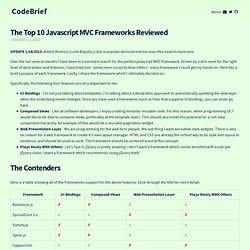 guiStuff - Coding, formats, standards