A Level Spanish
Authentik Interactive. Testmoz - The Test Generator. MarcoELE.
Medio ambiente. Languagesonline.org. Home. Flash cards, vocabulary memorization, and study games. ¡Bienvenidos a AsíSeHace.net! Publicaciones. Acti / España: Revista de Auxiliares de Conversación Acti / España es una publicación anual que recoge un conjunto de actividades creadas por auxiliares de conversación y destinadas a motivar e implicar al alumnado de español del Reino Unido e Irlanda.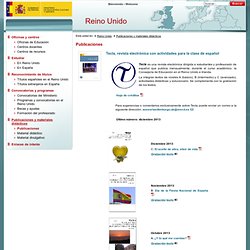 Lo más destacable de esta revista es el ingenio de sus autores para crear actividades que, a la vez que cubren una parte del currículo, entretienen, son flexibles en cuanto a tiempo y nivel y presentan la realidad española actual, por lo que constituyen un excelente banco de materiales para este profesorado. Languages Resources Spanish. Spanish Verb Mastery - Free Spanish Verb Charts. AQA A-level Spanish. Learn Spanish.
---