A Level Spanish
Authentik Interactive
Testmoz is a test generator that sports 4 question types, automatic grading, a really simple interface and detailed reports. Testmoz is free, and does not require you (or your students) to register. You can build a fully functional test in about a minute, so why don't you give it a try and generate a test?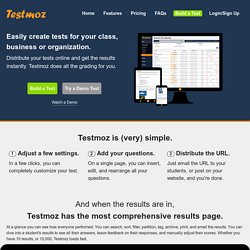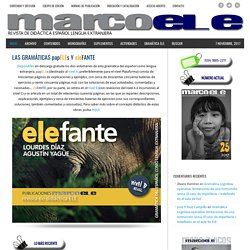 Mª ÁNGELES FUMADÓ ABAD UNIVERSITÀ DEGLI STUDI SUOR ORSOLA BENINCASA, ITALIA Como es bien sabido, no todas las lenguas comparten la misma percepción del tiempo. Así, dependiendo de cuál sea la L1 del aprendiente de español saber distinguir entre el concepto temporal expresado por un rato y el que expresa un momento puede ser algo complicado.
AsíSeHace.net is a free website from the Spanish Department at Nottingham High School with lots of interactive exercises to help you learn Spanish. Although this website is specifically designed to help GCSE and A Level students, it would be useful to absolutely anyone learning Spanish. It's easy: simply use the navigation bar to the right to guide you through the different topics and exercises. Each exercise displays an icon telling you whether it is a reading or a listening exercise, a game or an exercise with video. All the links are in Spanish but, if your Spanish is not yet that good, don't worry!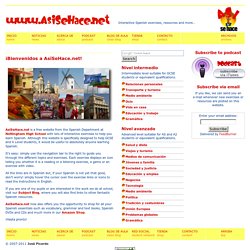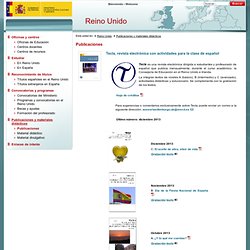 Acti / España: Revista de Auxiliares de Conversación Acti / España es una publicación anual que recoge un conjunto de actividades creadas por auxiliares de conversación y destinadas a motivar e implicar al alumnado de español del Reino Unido e Irlanda. Lo más destacable de esta revista es el ingenio de sus autores para crear actividades que, a la vez que cubren una parte del currículo, entretienen, son flexibles en cuanto a tiempo y nivel y presentan la realidad española actual, por lo que constituyen un excelente banco de materiales para este profesorado.
Publicaciones
Languages Resources Spanish
Spanish verbs are the make-or-break point for many beginners. Once Spanish students pass the 'Spanish kindergarten class' (the alphabet, numbers, calendar, common nouns, adjectives, and expressions) it's time for beginners to really focus on Spanish verbs. The truth is, even more advanced Spanish students struggle with Spanish verb conjugation.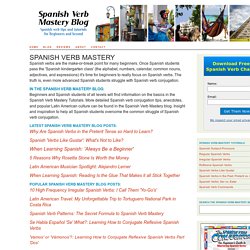 AQA A-level Spanish