Yummyy
Cheesecake Stuffed Strawberries | - StumbleUpon. Cheesecake Stuffed Strawberries These cheesecake stuffed strawberries are the perfect dessert treat!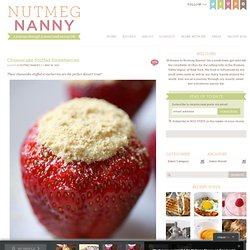 Can I just say that I have died and gone to heaven. The Pastry Affair - Home - Garlic Parmesan Pull-Apart&Bread - StumbleUpon. I once made the driest pancake in the world.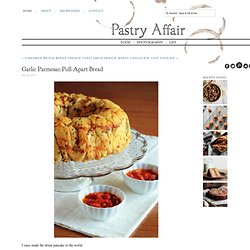 I can see you sitting at home, staring at your computer screen, and scoffing at my bold statement. Driest pancake in the world? Makes & how to make a rainbow cake! Aaannnndddd, she's back!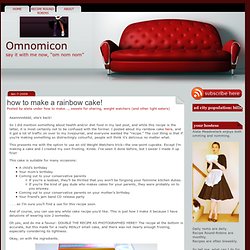 So I did mention something about health and/or diet food in my last post, and while this recipe is the latter, it is most certainly not to be confused with the former. I posted about my rainbow cake here, and it got a lot of traffic on over to my livejournal, and everyone wanted the "recipe." The Gonzo Gourmet | Stirring up a whole lotta crazy in the kitchen - StumbleUpon. Make Your Own Ice Cream in Five Minutes : Parentables - StumbleUpon. Photo Credit: Sarah Fernandez I have such fond memories of making homemade ice cream in the summer when we were kids.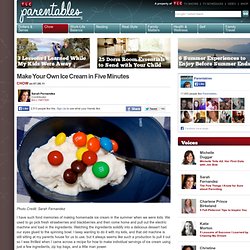 We used to go pick fresh strawberries and blackberries and then come home and pull out the electric machine and load in the ingredients. Watching the ingredients solidify into a delicious dessert had our eyes glued to the spinning bowl. Garlic Potato Chip Stacked Bacon Burger | Simple Comfort Food. The title of this recipe is a mouthful, literally, and boy was it ever delicious.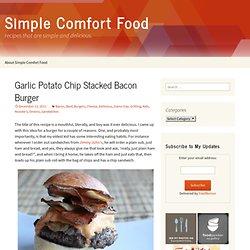 I came up with this idea for a burger for a couple of reasons. One, and probably most importantly, is that my oldest kid has some interesting eating habits. For instance whenever I order out sandwiches from Jimmy John's, he will order a plain sub, just ham and bread, and yes, they always give me that look and ask, 'really, just plain ham and bread?" , and when I bring it home, he takes off the ham and just eats that, then loads up his plain sub roll with the bag of chips and has a chip sandwich.
Don't get me wrong, a chip sandwich on its own is pretty darn awesome, but as I am always trying to get my kids to try new things, I thought I would take his idea of a chip sandwich and convert that into one of his favorite burgers. Creamy baked mac-and-cheese (and it's easy) | Simply Love Food. Creamy baked mac & cheese Hot, bubbly, gooey, cheesy, creamy, rich, I'll have 2nds and 3rds and 4ths please.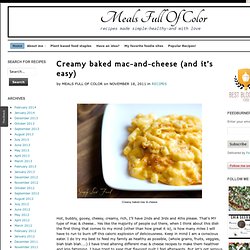 That's MY type of mac & cheese… Yes like the majority of people out there, when I think about this dish the first thing that comes to my mind (other than how great it is), is how many miles I will have to run to burn off this caloric explosion of deliciousness. Sauteed Mushrooms with white wine, thyme and rosemary | Simply Love Food.
I know a lot of people don't like mushrooms.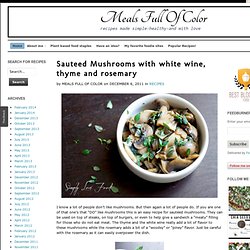 But then again a lot of people do. If you are one of that one's that "DO" like mushrooms this is an easy recipe for sautéed mushrooms. They can be used on top of steaks, on top of burgers, or even to help give a sandwich a "meaty" filling for those who do not eat meat. The thyme and the white wine really add a lot of flavor to these mushrooms while the rosemary adds a bit of a "woodsy" or "piney" flavor. Just be careful with the rosemary as it can easily overpower the dish. Rustic Tuscan Vegetable Soup | Simply Love Food. It's finally "winter" here in the desert.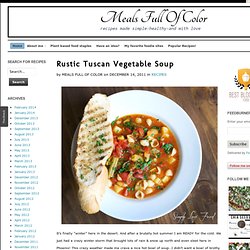 And after a brutally hot summer I am READY for the cold. We just had a crazy winter storm that brought lots of rain & snow up north and even sleet here in Phoenix! This crazy weather made me crave a nice hot bowl of soup…I didn't want a bowl of brothy soup, but one that was rather hearty, yet filling AND healthy. TasteSpotting | a community driven visual potluck - StumbleUpon. Chocolate Chip Cookie Dough + Cupcake = The BEST Cupcake. Ever. Recipe - Allrecipes.com - StumbleUpon. Cake batter blondies. | girl meets life. - StumbleUpon. I don't say this very often.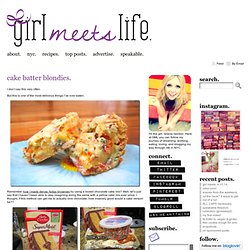 But this is one of the most delicious things I've ever eaten. Remember how I made dense, fudgy brownies by using a boxed chocolate cake mix? Well, let's just say that I haven't been able to stop imagining doing the same with a yellow cake mix ever since. I thought, if this method can get me to actually love chocolate, how insanely good would a cake version be??
So, chocolate-lovers, this isn't entirely for you. Healthy Homemade Pizza Recipes - Homemade Pizza Recipes - The Daily Green. Twix Cheesecakes – Gingerbread Bagels - StumbleUpon. Food Nutrition Facts - Healthy Living Tips at WomansDay.com. Every child has heard the healthy-eating mantra "You are what you eat.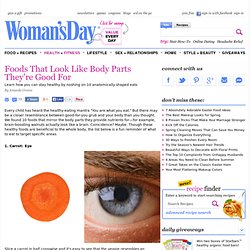 " But there may be a closer resemblance between good-for-you grub and your body than you thought. We found 10 foods that mirror the body parts they provide nutrients for—for example, brain-boosting walnuts actually look like a brain. Gingerbread Kama Sutra. Girl Eats Food - Crazy Christmas Caffeine Cake Pops. The decorations are up, you've burnt all your furniture for extra warmth and soon it'll be socially acceptable to have pigs in blankets drowned in eggnog for breakfast. Only thing is, you've forgotten that you need to buy thoughtful shit for your family and friends or Christmas morning will be more awkward than that time you spent it with the parents of your latest one night stand.
Everything about December says you should be tucked away indoors. The last thing you wanna be doing is body-slamming a motherfucker onto the slushy ground outside the perfume pop-up shop for the last squeezy of Davidoff hand lotion while Mariah Carey whimpers gently in the background. Camping Recipes - Camping never tasted so good! - StumbleUpon.
---