Art / design
CSS. The Colors Of Shorebreak By Clark Little by COLOURlovers. I know we had a colorful look at waves not too long ago (see it here), but when I came across the shorebreak photography of Clark Little I couldn't resist sharing the incredible palettes created by a mix of sand, shore and water.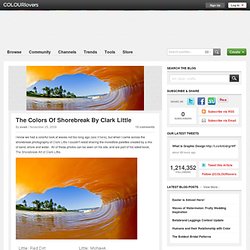 All of these photos can be seen on his site, and are part of his latest book, The Shorebreak Art of Clark Little. All Images © Clark Little. Web Design Video and Development Tutorial Library // Think Vitamin Membership. 1stwebdesigner - Graphic and Web Design Blog. A Closer Look At the Blueprint CSS Framework. Blueprint is a CSS framework that can save you time and headaches when working on any project that involves HTML and CSS, whether it be with Rails, PHP, or just laying out an HTML page.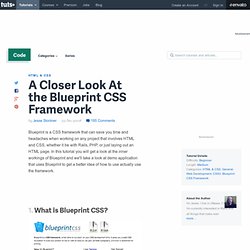 In this tutorial you will get a look at the inner workings of Blueprint and we'll take a look at demo application that uses Blueprint to get a better idea of how to use actually use the framework. 1. What is Blueprint CSS? If you are like me, as in more of a developer than a designer, then you are familiar with the process of starting a new project and not knowing what to do with your CSS. You know that your design will likely change as the project goes on, but you want to have a nice looking design from the beginning.
Learn to draw. 40 Free Tutorials on Advanced Drawing Techniques. The traditional form of drawing and sketching is a highly sought after skill.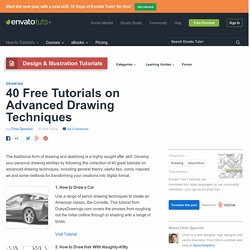 Develop your personal drawing abilities by following this collection of 40 great tutorials on advanced drawing techniques, including general theory, useful tips, comic inspired art and some methods for transforming your creations into digital format. 1. How to Draw a CarUse a range of pencil drawing techniques to create an American classic, the Corvette. This tutorial from DueysDrawings.com covers the process from roughing out the initial outline through to shading with a range of tones.Visit Tutorial 2. How to Draw Hair With Naughty-KittyFollow this tutorial by Naughty Kitty to gain some useful tips on recreating Manga inspired hair in a range of styles.Visit Tutorial 3.
---