Social Media
Get flash to fully experience Pearltrees
It's rare to look at a bookmarking tool and feel convinced that it's going to win a design award. Pearltrees is such a product. The French site offers us a new way to explore and contextualize the web.
Posted by Sravan | April 22, 2009 . Today, access to content on the Internet is largely dependent on search algorithms or aggregation at social sites. This dependency gave rise to SEO and related ways of promoting content.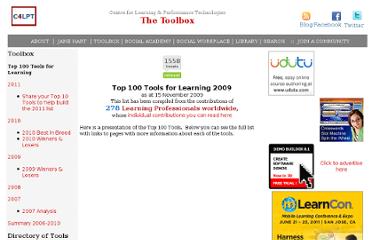 Top 100 Tools for Learning 2009 as at 15 November 2009 This list has been compiled from the contributions of 278 Learning Professionals worldwide, whose individual contributions you can read here Here is a presentation of the Top 100 Tools. Below you can see the full list with links to pages with more information about each of the tools. KEY F = Free, C= Commercial, W = Windows, M=Mac, S=Server, O = Online Cells shaded blue are new tools on the list this year Cells shaded green are tools returning to the list this year C urrent ranking in 2009 # Votes
To Blog or Not To Blog? You have something to say, and blogs provide a place to say it and be heard. Many blogs are written to help people who may be going through similar situations. Or maybe you'd like to blog about a personal interest or hobby.