Chill
Ben Howard - Wouldnt Be a Lie.
Ben Howard - Keep Your Head Up acoustic
Shed Sessions: Emily and The Woods - I Can't
Lykki Li - After Laughter (Poirot Rework)
Dj Shadow - Blood on the Motorway
WLT - Villagers - Becoming A Jackal
WLT - Dry The River - Bible Belt
WLT - OK GO - White Knuckles
WLT - Hey Rosetta! - Young Glass
WLT - Michael Kiwanuka - I'm Getting Ready
Roberta Campos - Varrendo a Lua (Clipe Oficial)
Emily and The Woods performs Doorstep - Location Music TV
Lucy Rose - 'Shiver' - City Sessions
Lucy Rose - Night Bus (acoustic)
Lucy Rose - Don't You Worry
Lucy Rose "Red Face" - AllSaints Basement Sessions: Bestival Special
Jacques Greene - Arrow (Feat. Koreless)
Pedro Guerra - Te Lo Juro Yo
Pedro Guerra - Contigo En La Distancia
Pedro Guerra - Piensa En Mi
Debajo del Puente
Hindi Zahra - The Man I Love (Unplugged)
Dillon - Thirteen Thirtyfive at Studio 8
Prefuse 73 - Storm Returns
Star Slinger - Mornin' (Music Video Directed by Alan Jensen)
Lana Del Rey - Video Games (Joe Allen Remix)
The Foreign Exchange - All That You Are (Instrumental)
kollektiv turmstrasse - schwindelig
Rich Kidd - Don't Sleep On Me (instrumental)
▶ Senseless by Maya Jane Coles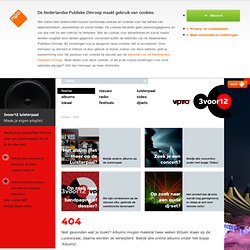 DJ Shadow: The Less You Know, The Better 3VOOR12 SPELER
De Publieke Omroep is wettelijk verplicht toestemming te vragen voor het gebruik van cookies. Als je deze eenmalig accepteert, dan zijn alle websites van de Publieke Omroep te bezoeken. Wij maken gebruik van functionele cookies en cookies voor het beheer van webstatistieken, advertenties en social media. De cookies bewaren geen persoonsgegevens en zijn dus niet aan een individu te koppelen.
Miquel - Sure Thing (Remix) (ft. Pusha T and Lil' Wayne)
Jeremih - Birthday Sex (@RAWsession Original)
"Chicago" - Sufjan Stevens on Vimeo
Escuchar La Llorona Que viva la Huasteca