Studium
Drupal Tutorial: Backing Up Drupal, Part 2: File Backup. Fuzzylogik. Fuzzylogik einer Temperaturregelung Historische Entwicklung[Bearbeiten] Die Überlegungen zu einer Logik der Unschärfe reichen zurück in die griechische Antike.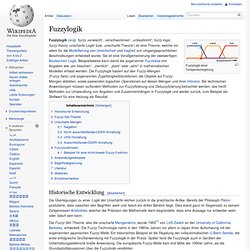 Bereits der Philosoph Platon postulierte, dass zwischen den Begriffen wahr und falsch ein dritter Bereich liege. Dies stand ganz im Gegensatz zu seinem Zeitgenossen Aristoteles, welcher die Präzision der Mathematik darin begründete, dass eine Aussage nur entweder wahr oder falsch sein kann. Die Fuzzy-Set-Theorie, also die unscharfe Mengenlehre, wurde 1965[1] von Lotfi Zadeh an der University of California, Berkeley, entwickelt.
Genetic algorithm. The 2006 NASA ST5 spacecraft antenna.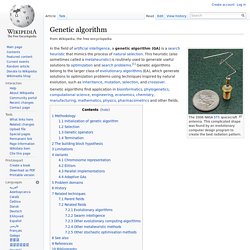 This complicated shape was found by an evolutionary computer design program to create the best radiation pattern. Genetic algorithms find application in bioinformatics, phylogenetics, computational science, engineering, economics, chemistry, manufacturing, mathematics, physics, pharmacometrics and other fields. Methodology[edit] In a genetic algorithm, a population of candidate solutions (called individuals, creatures, or phenotypes) to an optimization problem is evolved toward better solutions. Each candidate solution has a set of properties (its chromosomes or genotype) which can be mutated and altered; traditionally, solutions are represented in binary as strings of 0s and 1s, but other encodings are also possible.
WebDev. SWTP. Languages. Haubtseminar. IT-QBase GmbH // Unternehmen. Praktikum: Messung des Energieverbrauchs von Fahrzeug-Steuergeräten und Identifikation derer Abhängigkeiten. 403 - Fehlende Berechtigung Sie befinden sich auf dem umantis-Websystem, haben aber keine Berechtigung, die angeforderte Seite/Datei zu empfangen.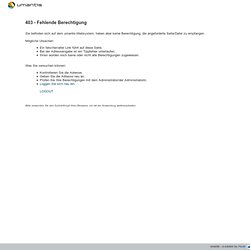 Mögliche Ursachen: Ein falscher/alter Link führt auf diese Seite. Bei der Adresseingabe ist ein Tippfehler unterlaufen. Ihnen wurden noch keine oder nicht alle Berechtigungen zugewiesen. Iztech Robotics Lab. About IRL research contributes to the field of haptics, teleoperation, and robotic systems development and control.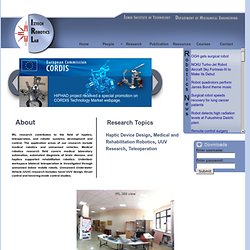 The application areas of our research include medical robotics and unmanned vehicles.
---