Free
osCommerce Documentation by OSCdox :: osCommerce and osCMax docu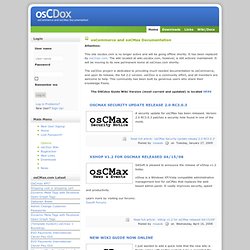 Attention: This site oscdox.com is no longer active and will be going offline shortly. It has been replaced by osCmax.com. The wiki located at wiki.oscdox.com, however, is still actively maintained. It will be moving to its new permanent home at osCmax.com shortly.
Zen Cart® truly is the art of e-commerce; free, user-friendly, open source shopping cart software. The ecommerce web site design program is being developed by a group of like-minded shop owners, programmers, designers, and consultants that think ecommerce web design could be and should be done differently. Some shopping cart solutions seem to be complicated programming exercises instead of responding to users' needs, Zen Cart® puts the merchants and shoppers requirements first. Similarly, other shopping cart software programs are nearly impossible to install and use without an IT degree, Zen Cart® can be installed and set-up by anyone with the most basic web site building and computer skills. There are hundreds of shopping cart programs available, but none come close to offering the level of options, features and support available with Zen Cart®.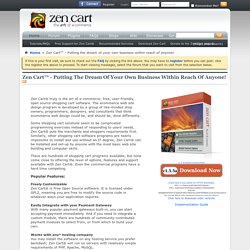 osCommerce, Open Source Online Shop E-Commerce Solutions
8 Interesting CMS for e-commerce websites
If you want to open an e-commerce website can be useful to take a look at this list with eigth interesting Content Management System which can help you to reduce your programming effort for developing e-commerce projects. If you know other products or have some opinion about this CMS please add a comment, thanks! 1. MagentoMagento is an interesting platform for your e-commerce website. It's modular architecture and unprecedented flexibility means your business is no longer constrained by your eCommerce platform. Magento is total control.