Innovation in services
Free Sample Business Plans and Business Plan Software. Generate Companies - The World Database of Innovation. Innovation Practice. File47440. Open Innovation in Services. Service Innovation: The Next Big Thing. IBM, Oracle, and other tech companies have formed a new nonprofit consortium dedicated to the advancement of this hot concept When most consumers and corporations think of innovation, sleek, user-friendly products such as Apple's (AAPL) iPod come to mind.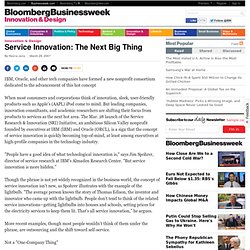 But leading companies, innovation consultants, and academic researchers are shifting their focus from products to services as the next hot area. The Mar. 28 launch of the Service Research & Innovation (SRI) Initiative, an ambitious Silicon Valley nonprofit founded by executives at IBM (IBM) and Oracle (ORCL), is a sign that the concept of service innovation is quickly becoming top-of-mind, at least among executives at high-profile companies in the technology industry.
"People have a good idea of what technological innovation is," says Jim Spohrer, director of service research at IBM's Almaden Research Center. "But service innovation is more hidden. " Innovation management & Idea management | Innovation Factory. Promoting Innovation in Services. This report summarizes work on innovation in services that was conducted as part of the OECD's horizontal project "Enhancing the Performance of the Service Sector".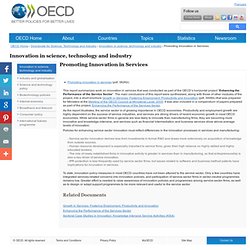 The main conclusions of this report were synthesised, along with those of other modules of the project, into a short brochure Growth in Services: Fostering Employment, Productivity and Innovation (pdf, 300Kb) that was prepared for Ministers at the Meeting of the OECD Council at Ministerial Level, 2005. It was also included in a compendium of papers prepared as part of the project, Enhancing the Performance of the Services Sector.
As the report illustrates, the service sector is of growing importance in OECD economies. Productivity and employment growth are highly dependent on the success of service industries, and services are strong drivers of recent economic growth in most OECD economies. Consortium for Service Innovation Home.
---