Śmieszne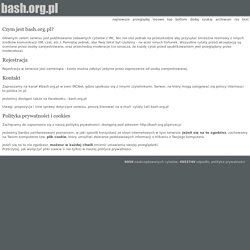 Czym jest bash.org.pl? Głównym celem serwisu jest publikowanie zabawnych cytatów z IRC. Nic nie stoi jednak na przeszkodzie aby przysyłać śmieszne rozmowy z innych środków komunikacji (IM, czat, etc.).
bash.org.pl: ?mieszne cytaty
Joe Monster.org - Probably The Best Page In The Universe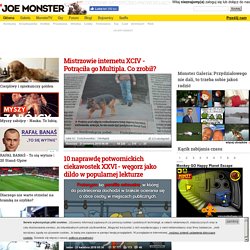 Jako zarejestrowany bojownik JM, będziesz miał parę bonusów: - strona będzie cie witać - zmienisz sobie wygląd strony - dostaniesz od czasu od nas maila - będziesz mógł popisać się na forum - będziesz recenzentem i oceniaczem - skomentujesz nas szczerze - obejrzysz w całości słynną MonsterGalerię, teraz to 129 223 obrazków. I wiem, że zawsze chciałeś ją obejrzeć... - włączysz sobie na pełen regulator Szafę Grającą, teraz ponad 55598 pliczków Dołącz do nas!
Speeding along at 60, there was a buzz from my mobile on the dashboard. "Your phone just went," said my wife. "It's only a text," I replied. "I'll check it when we get there." She picked up the phone, and looked at it suspiciously.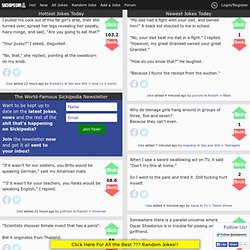 Building the world's best collection of sick jokes
CollegeHumor - Funny Videos, Funny Pictures, Funny Links!
FML: Your everyday life stories
Cracked.com - America's Only Humor & Video Site Since 1958
Lamebook –
WTF Pictures and WTF videos by Picture Is Unrelated