Deals
Polskie spółki wchodzą w rynek zakupów grupowych. LocalDealSites.com - Directory of 167 Local Deal of the Day Sites, Group Deal Sites, Extreme Deal Sites, and Group Buying Sites! Groupon.pl - podobne strony, alternatywne strony - PodobneStrony.pl. Daillly. Hot Coupon App Automates Savings Via Loyalty Cards. The newly launched SavingStar web, iPhone and Android apps reward consumers with cash back when they redeem paperless coupons, and the startup believes it can cut through the mobile coupon clutter with a product that mirrors how consumers purchase groceries on a regular basis.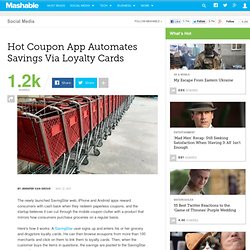 Here's how it works: A SavingStar user signs up and enters his or her grocery and drugstore loyalty cards. He can then browse ecoupons from more than 100 merchants and click on them to link them to loyalty cards. Deals & Checkin Specials Not Free Enough? You Might Like This New Service. Daily deals, offers, merchant rewards and checkin specials are becoming de facto ways to entice consumers to pay a visit to new restaurant or shop.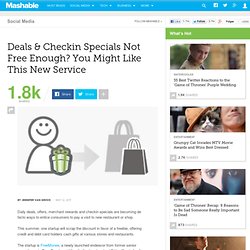 This summer, one startup will scrap the discount in favor of a freebie, offering credit and debt card holders cash gifts at various stores and restaurants. The startup is FreeMonee, a newly launched endeavor from former senior executives at eBay, Oracle and Visa that's already raised $11 million in funding. It's neither daily deal service nor mobile coupling app, but instead a self-proclaimed "cash-gift network. " Gruper kontra Groupon. Kto zdominuje rynek zakupów grupowych? - Biznes i prawo gospodarcze - Gazeta Prawna - największy dziennik gospodarczy. Gruper.pl, drugi pod względem liczby użytkowników serwis zakupów grupowych na polskim rynku, zaostrza walkę o rynek.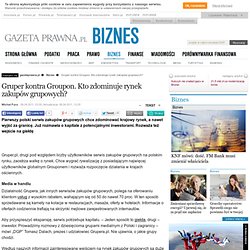 Chce wygrać rywalizację z posiadającym najwięcej użytkowników globalnym Grouponem i rozważa rozpoczęcie działania w krajach ościennych. Media w handlu Działalność Grupera, jak innych serwisów zakupów grupowych, polega na oferowaniu klientom usług z wysokim rabatem, wahającym się od 50 do nawet 70 proc. W ten sposób sprzedawane są karnety na kolacje w restauracjach, masaże, oferty w hotelach.
---