Bartekborowiec
Bartek Borowiec
Fandoms
Sauna. Untitled. MASS MEDIA: THE 1st OR THE 4th POWER: CENSORSHIP IN MEDIA Mirosław Kocur Pałac Z San Francisco do Los Angeles najlepiej jechać przepiękną autostradą nr 1, wije się co prawda niebezpiecznie blisko brzegów Pacyfiku, ale widoki zapierają dech.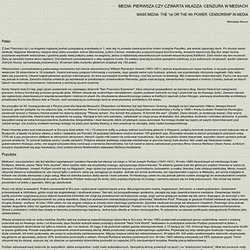 Blogs, Wikipedia, Second life, and Beyond: from production to produsage - Axel Bruns - Google Books. Confronting the Challenges of Participatory Culture: Media Education for the 21st Century (The John D. and Catherine T. MacArthur Foundation Reports on Digital Media and Learning) (9780262513623): Henry Jenkins, Ravi Purushotma, Margaret Weigel, Katie Cli. Louis Althusser. Louis Althusser (ur. 16 października 1918, Birmandreis, Algieria, zm. 22 października 1990, Paryż, Francja) – francuski filozof marksistowski, jeden z głównych przedstawicieli marksizmu strukturalistycznego.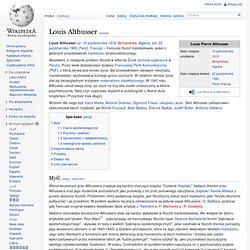 Absolwent, a następnie profesor filozofii w elitarnej École normale supérieure w Paryżu. Przez wiele dziesięcioleci działacz Francuskiej Partii Komunistycznej (PCF), z którą zerwał pod koniec życia. Był przewodnikiem ideowym młodzieży maoistowskiej i wychowawcą licznego grona uczonych. Infinite Possibility: Creating Customer Value on the Digital Frontier: Amazon.co.uk: B. Joseph Pine Ii, Kim Korn. Educators everywhere are grappling with a core paradox.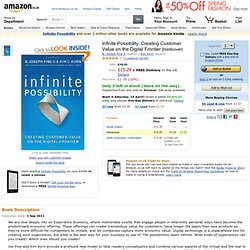 Children, aged 6 through 18, live in two worlds. The morning world is real, based in school. The evening world is virtual, based in Facebook, Twitter and other social networks. Axel bruns. Return On Influence: The Revolutionary Power of Klout, Social Scoring, and Influence Marketing (9780071791090): Mark Schaefer. Badgeville.com | The Behavior Platform.
Cool StufF. GCSE Media Studies Introduction. Why Choose Media Studies?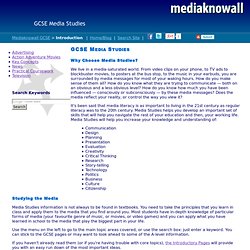 We live in a media-saturated world. From video clips on your phone, to TV ads to blockbuster movies, to posters at the bus stop, to the music in your earbuds, you are surrounded by media messages for most of your waking hours. Movies. Marketing. Inwestowanie w obrazy z Abbey House: wielka okazja czy ... Słyszeliście o Abbey House?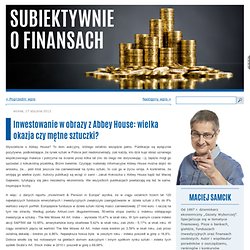 To dom aukcyjny, którego ostatnio wszędzie pełno. Publikacje są wyłącznie pozytywne, podkreślające, że rynek sztuki w Polsce jest niedorozwinięty, zaś każdy, kto dziś kupi obraz uznanego współczesnego malarza i potrzyma na ścianie przez kilka lat (nic do niego nie dorysowując :-)), będzie mógł go sprzedać z kilkukrotną przebitką. Brzmi świetnie. Czytając materiały informacyjne Abbey House można dojść do wniosku, że... jeśli ktoś jeszcze nie zainwestował na rynku sztuki, to coś go w życiu omija.
Pearltrees videos. Getting started.
---