ToDos
Project-oriented GTD® Task Management for Mac, iPhone and iPad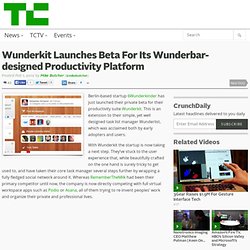 Wunderkit launches beta for its wunderbar-designed productivity platform
Berlin-based startup 6Wunderkinder has just launched their private beta for their productivity suite Wunderkit. This is an extension to their simple, yet well designed task list manager Wunderlist, which was acclaimed both by early adopters and users. With Wunderkit the startup is now taking a next step. They've stuck to the user experience that, while beautifully crafted on the one hand is surely tricky to get used to, and have taken their core task manager several steps further by wrapping a fully fledged social network around it. Whereas RememberTheMilk had been their primary competitor until now, the company is now directly competing with full virtual workspace apps such as Podio or Asana, all of them trying to re-invent peoples' work and organize their private and professional lives.
"No" is the New "Yes": Four Practices to Reprioritize Your Life - Tony Schwartz
by Tony Schwartz | 8:12 AM January 17, 2012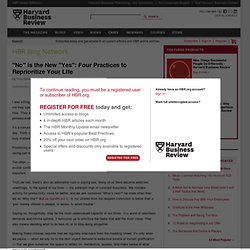 | Working At The Intersection of Personal Productivity and Lean Manufacturing
GTD Review
Onthewire Mail - You Are What You Think. Visualize Your Best 2012. - admin
icalBuddy: Getting Events and Tasks from the OS X Calendar Store via the Command Line : hasseg.org
Posted on June 20, 2008 Filed under Mac, Programming I'm a big fan of the "do not repeat yourself" principle, which, especially in the context of software, basically means that you should only have one place to change anything. Any highly volatile data that will be viewed from more than one location (or in more than one way) should only have one location and/or interface for changing it. This way, whenever someone, somewhere, at some point in time happens to make changes to that data, all of the views that display it will reflect that change in true MVC fashion. The calendar store in OS X is a nice centralized database for calendar data that allows me to practice this principle when it comes to my calendars, and I've been very happy with it, given that I've also gotten automated synchronization with my cell phone to work.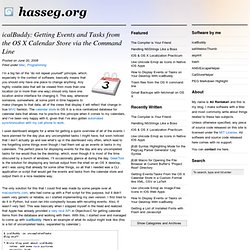 Anxiety - Lightweight To-do Management
Zone
Evernote Developer Documentation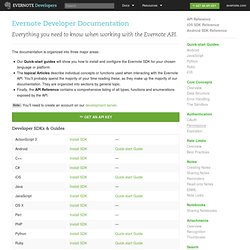 API Overview | Evernote Corporation
Todo.txt: Future-proof task tracking in a file you control
Description "This is the best ever task and project management app" – iEatApples "Next! is an easy recommendation as a go-to productivity app" - AppCraver "A comprehensive task and project management tool for those desperate to be more productive" - 148Apps Next! is the ultimate in productivity for the iPad.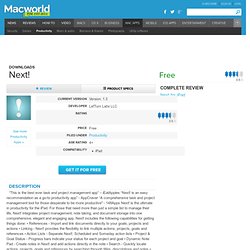 Next! Version: 1.3 Review | iPad Productivity App
Next! Review
Our Review By Jennifer Allen on November 10th, 2011 Rating: Share This: It's pricey but Next! certainly helps its users manage their workload. For those iPad owners looking for a task management app, there's a great wealth of choice out there. However, many are nothing more than glorified to do lists, something that has recently been usurped by the Reminders app that now comes with iOS5.0.