RapidWeaver
RapidWeaver Pro — Become a master of RapidWeaver web design. Features. Simpler webdev, one stack at a time… Use prettyPhoto to elegantly display all sorts of content.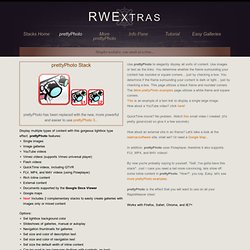 Use images or text as the links. You determine whether the frame surrounding your content has rounded or square corners... just by checking a box. You determine if the frame surrounding your content is dark or light... just by checking a box. This page utilizes a black frame and rounded corners. The More prettyPhoto examples page utilizes a white frame and square corners.This is an example of a text link to display a single large image. Gregory Barchard | Home. Armadillo CMS for RapidWeaver by NimbleHost. The first, custom-built, RapidWeaver-specific content management system.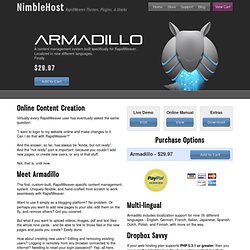 Uniquely flexible, and hand-crafted from scratch to work seamlessly with RapidWeaver. Want to use it simply as a blogging platform? No problem. Or perhaps you want to add new pages to your site, edit them on the fly, and remove others? Got you covered. Elixir Graphics. Professional RapidWeaver Themes by seyDesign - home. Kuler Solutions. RapidWeaver Themes. MyRapidWeaver. RapidWeaver FAQ - Tutorials, Tips & Tricks. Rapidweaver Themes Tutorial. Some themes are extremely variable, with extensive inbuilt flexibility.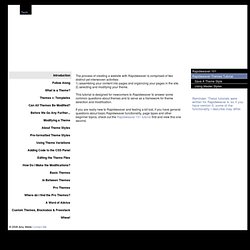 For purposes of this tutorial I am going to call these "pro themes". These themes are ( by and large) created by third party developers, offer far more variability than the Realmac themes and can be purchased for between 10 and 20USD. I will point out that Realmac does not directly support third party products, but they do facilitate your obtaining support on the forums. If you use the pro themes, your theme selection process will shift and you will find that you choose a theme based more on its structure and less on aesthetic issues, like colors, because often with the pro themes, all of the colors can be easily changed in the color wheel pane.
The pro themes are often very visually interesting and up to date with the latest web design trends, so you might choose to use them as they come; but they also can serve as a launch pad for your own creativity or as a bare framework for your own design. RapidWeaver Pro — Become a master of RapidWeaver web design. RapidWeaver Tutorials - Welcome To RapidWeaver Tutorials. Rapidweaver Tutorial - Rapidweaver installation, Rapidweaver configuration, Blog with RapidWeaver, Photo Album with RapidWeaver, Contact us page with RapidWeaver. Products - SymfoniP. MacSupportCasts. SupportCasts - Screencasts and video tutorials on Mac Stuff, RapidWeaver, web design. eBook Store - Get more out of Rapidweaver... Rapidweaver Books - RWcss - FormLoom Style. Books Type: Instant Electronic Download (PDF) Welcome the newest member of the Rapidweaver eBook Family.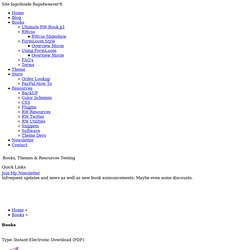 Now in RW4 and RW5 Versions! You could call this "The Missing Manual" or better yet: "The Manual That Should Have Been In The Box". Realmac Addons - Recently Updated. GetSatisfaction Stacks for Rapidweaver. DomainBrain: Domain Management Software for the Mac. Joe Workman | Mac & Rapidweaver Developer | Entrepreneur. PageLime - Simple CMS for Web Designers. PageLime Stacks for Rapidweaver. Blocks. RapidMaps 2 - Google Maps for the rest of us. Doobox Stacks Store.
---