RapidWeaver
RapidWeaver Pro — Become a master of RapidWeaver web design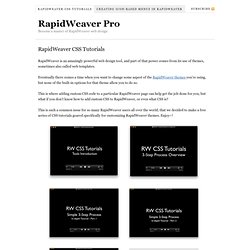 RapidWeaver is an amazingly powerful web design tool, and part of that power comes from its use of themes, sometimes also called web templates. Eventually there comes a time when you want to change some aspect of the RapidWeaver themes you're using, but none of the built-in options for that theme allow you to do so. This is where adding custom CSS code to a particular RapidWeaver page can help get the job done for you, but what if you don't know how to add custom CSS to RapidWeaver, or even what CSS is? This is such a common issue for so many RapidWeaver users all over the world, that we decided to make a free series of CSS tutorials geared specifically for customizing RapidWeaver themes. Enjoy~! Troubleshooting Video Coming Soon!
Features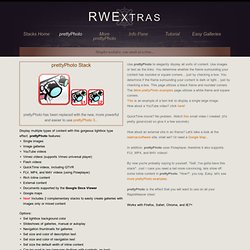 Simpler webdev, one stack at a time…
Use prettyPhoto to elegantly display all sorts of content. Use images or text as the links. You determine whether the frame surrounding your content has rounded or square corners... just by checking a box. You determine if the frame surrounding your content is dark or light... just by checking a box. This page utilizes a black frame and rounded corners. The More prettyPhoto examples page utilizes a white frame and square corners.This is an example of a text link to display a single large image.
Gregory Barchard | Home
The first, custom-built, RapidWeaver-specific content management system. Uniquely flexible, and hand-crafted from scratch to work seamlessly with RapidWeaver. Want to use it simply as a blogging platform? No problem. Or perhaps you want to add new pages to your site, edit them on the fly, and remove others? Got you covered.
Armadillo CMS for RapidWeaver by NimbleHost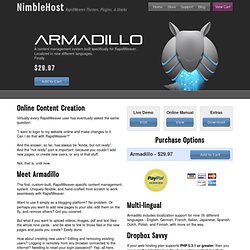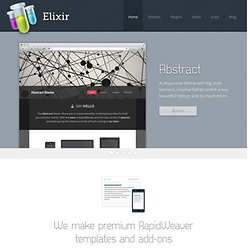 Passionate design We take great pleasure in creating beautiful templates because design is our passion. Our keen eye for detail makes our products a pleasure to use when developing sites for yourself and your clients. Themes Simplifying things Our plugins, for apps like Stacks, help you in building better pages, more efficiently.
Elixir Graphics
Professional RapidWeaver Themes by seyDesign - home
Kuler Solutions
RapidWeaver Themes
myRapidWeaver
Welcome to the all new myRapidWeaver. I've been around RapidWeaver and the Forums for over 5 years. Since the beginning, I've been dedicated to RapidWeaver and Realmac Software. The purpose, for me, has always been to provide support to the growing RapidWeaver community by providing a " one stop shop " where they could find simple access to the constantly growing 3rd Party Developers and additions that are available. I hope you find my site easy to navigate and that you are able to find exactly what you are looking for. If something is missing, feel free to contact me.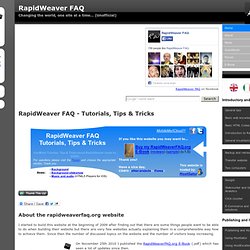 About the rapidweaverfaq.org websiteI started to build this website at the beginning of 2009 after finding out that there are some things people want to be able to do when building their website but there are very few websites actually explaining them in a comprehensible way how to achieve them. Since then the number of discussed topics on the website and the number of visitors keep increasing. (.pdf) which has seen a lot of updates since then. In addition to the content of the RapidWeverFAQ.org website the RapidWeaverFAQ.org E-Book also includes instructions about: Auto-Fading photos slideshow, Random text or images (or random anything else), Floating menu (or float anything else), Sliding image menu, Accordion menu, Background slideshow, Five Star rating system (Bonus Chapter) and much more… which are not discussed on the website.
RapidWeaver FAQ - Tutorials, Tips & Tricks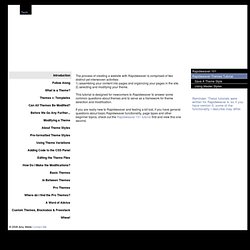 Some themes are extremely variable, with extensive inbuilt flexibility. For purposes of this tutorial I am going to call these "pro themes". These themes are ( by and large) created by third party developers, offer far more variability than the Realmac themes and can be purchased for between 10 and 20USD. I will point out that Realmac does not directly support third party products, but they do facilitate your obtaining support on the forums. If you use the pro themes, your theme selection process will shift and you will find that you choose a theme based more on its structure and less on aesthetic issues, like colors, because often with the pro themes, all of the colors can be easily changed in the color wheel pane. The pro themes are often very visually interesting and up to date with the latest web design trends, so you might choose to use them as they come; but they also can serve as a launch pad for your own creativity or as a bare framework for your own design.
Rapidweaver Themes Tutorial
RapidWeaver Pro — Become a master of RapidWeaver web design
RapidWeaver Tutorials - Welcome To RapidWeaver Tutorials
Rapidweaver Tutorial - Rapidweaver installation, Rapidweaver configuration, Blog with RapidWeaver, Photo Album with RapidWeaver, Contact us page with RapidWeaver.
Products - SymfoniP
MacSupportcasts is a site dedicated to Apple and Mac news as will as video tutorials and education. If it's related to an Apple product we will cover it in the news or in a tutorial. Video tutorials, also known as Screencasts, are in a classroom style so you can focus on and receive only what you need and want right now. Owners Larry Pollock and Kevin Burns have been screencasting and teaching via video tutorial for 3 years. We are all long time Mac lovers and users.
MacSupportCasts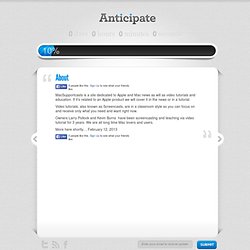 SupportCasts - Screencasts and video tutorials on Mac Stuff, RapidWeaver, web design
eBook Store - Get more out of Rapidweaver...
Books Type: Instant Electronic Download (PDF) Welcome the newest member of the Rapidweaver eBook Family. Now in RW4 and RW5 Versions! You could call this "The Missing Manual" or better yet: "The Manual That Should Have Been In The Box".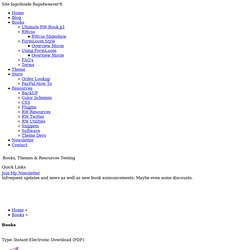 Rapidweaver Books - RWcss - FormLoom Style
Realmac Addons - Recently Updated
GetSatisfaction Stacks for Rapidweaver
It may be only one website, but there are a lot of pieces that make up that one website. You'll need login info for FTP, your admin account for the content management system, yadda yadda yadda. Multiply all that by a half dozen websites, and it's information overload. DomainBrain has a place for everything - your FTP login, database access info, CMS admin account, plus hosting and registrar account info. All in one place, just a click away.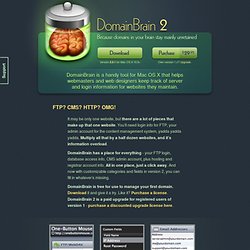 DomainBrain: Domain Management Software for the Mac
Joe Workman | Mac & Rapidweaver Developer | Entrepreneur
No Download or Installation Required!Just sign-up, and start editing your first 3 sites for free! No Installation You don't have to install PageLime, and you don't have to configure any databases. PageLime lives on our servers, and remotely connects to your site for easy editing. Manage Multiple Sites
PageLime Stacks for Rapidweaver
Blocks
RapidMaps 2 - Google Maps for the rest of us.
Doobox Stacks Store