OSX
Project Management with Interactive Online Gantt Chart | Smartsheet
Company 7 March 4th, 2013 Due to popular demand, we have a new bundle of 4 apps for Mac at reduced price. 50% off discount ! With xList 3, xTwin 2, xDream 2 and xPoint 1.1. Click here to purchase it.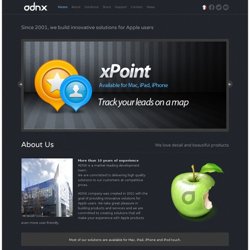 xtwin4mac
Runecats : Software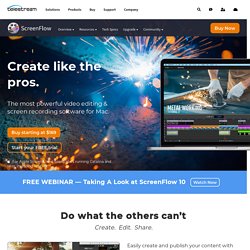 Screen recording and a whole lot more.... What's New Nested Clips Closed Captions Chroma Key Video/Audio Filters 64-bit & MPEG-4 Learn more Rave Reviews
Raskin | Beyond Desktop
Path Finder Screencasts : Cocoatech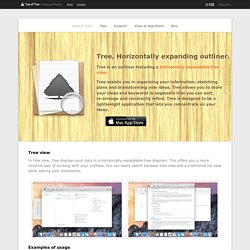 Tree view In tree view, Tree displays your data in a horizontally expandable tree diagram. This offers you a more intuitive way of working with your outlines. You can easily switch between tree view and a traditional list view while editing your documents. Examples of usage
Top of Tree - Tree, outliner for Mac OS X. Horizontally expanding outliner.
Script factory
PopClip for Mac
BeLight Software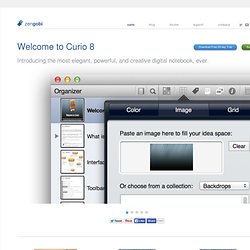 New User interface You'll love the simplified and modernized user interface with detachable inspector popovers. The entire UI was rebuilt and redesigned from scratch for ease of use. Insert Popover
Curio - Mind Mapping, Brainstorming, and Project Management Software for Mac OS X
Mixtab
Replies: Be a Customer Support Hero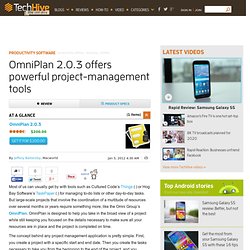 OmniPlan 2.0.3 Productivity Software Review
Most of us can usually get by with tools such as Cultured Code's Things ( ) or Hog Bay Software's TaskPaper ( ) for managing to-do lists or other day-to-day tasks. But large-scale projects that involve the coordination of a multitude of resources over several months or years require something more, like the Omni Group's OmniPlan . OmniPlan is designed to help you take in the broad view of a project while still keeping you focused on the details necessary to make sure all your resources are in place and the project is completed on time.
Free download Magican for Mac OS X
Magican is a freeware for Mac. This system monitor helps users to speed up Mac in all directions, such as clean Mac to enlarge disk and system space, monitoring system status in real time, like CPU usage and disk info, reminding of updating installed software, removing useless app to enlarge disk space, recommending discount software and free app of today in App Store, managing all your working documents, music and photos and showing your hardware info for upgrade.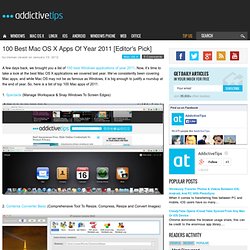 A few days back, we brought you a list of 150 best Windows applications of year 2011 . Now, it's time to take a look at the best Mac OS X applications we covered last year. We've consistently been covering Mac apps, and while Mac OS may not be as famous as Windows, it is big enough to justify a roundup at the end of year. So, here is a list of top 100 Mac apps of 2011.
100 Best Mac OS X Apps Of Year 2011 [Editor's Pick]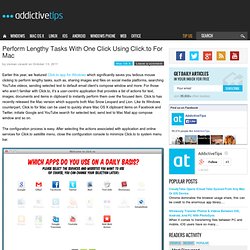 Earlier this year, we featured Click.to app for Windows which significantly saves you tedious mouse clicking to perform lengthy tasks, such as, sharing images and files on social media platforms, searching YouTube videos, sending selected text to default email client's compose window and more. For those who aren't familiar with Click.to, it's a user-centric application that provides a list of actions for text, images, documents and items in clipboard to instantly perform them over the focused item. Click.to has recently released the Mac version which supports both Mac Snow Leopard and Lion. Like its Windows counterpart, Click.to for Mac can be used to quickly share Mac OS X clipboard items on Facebook and Twitter, initiate Google and YouTube search for selected text, send text to Mac Mail app compose window and so on.
Perform Lengthy Tasks With One Click Using Click.to For Mac
Process
Mac ODBC: Database connectivity for Mac OS X by Actual Technologies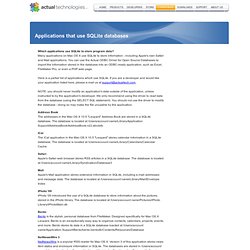 Which applications use SQLite to store program data? Many applications on Mac OS X use SQLite to store information - including Apple's own Safari and Mail applications. You can use the Actual ODBC Driver for Open Source Databases to import the information stored in the database into an ODBC-ready application, such as Excel, FileMaker Pro, or even a PHP web page. Here is a partial list of applications which use SQLite. If you are a developer and would like your application listed here, please e-mail us at support@actualtech.com .
Path Finder 5 by Cocoatech