NoteTaking
"The biggest software advance for writers since the word processor." — Michael Marshall Smith Grow your ideas in style Scrivener is a powerful content-generation tool for writers that allows you to concentrate on composing and structuring long and difficult documents.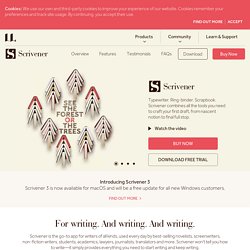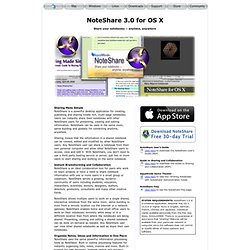 Software - NoteShare Product Page
Sharing Made Simple NoteShare is a powerful desktop application for creating, publishing and sharing media rich, multi-page notebooks. Users can instantly share their notebooks with other NoteShare users for presenting, viewing and editing information. NoteShare can be used in the same room, same building and globally for connecting anytime, anywhere.
NoteTaker is powerful new OS X software for organizing your information lifestyle, your digital workstyle. At its most basic level, NoteTaker is a personal note and idea organizer. With NoteTaker, you can make a list, organize an outline or jot down an idea. It's that basic. But with everyday work and lifestyle demands, our information needs are far more complex and diverse. And NoteTaker reflects this reality so that users can add and change the content and use of their information as needed.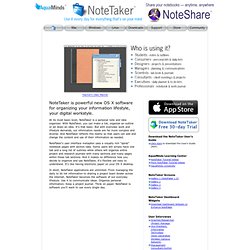 Software - NoteTaker Product Page
Curio Core - The Most Affordable Digital Notebook for Mind Mapping and Brainstorming for Mac OS X
Springpad: a free app that helps you remember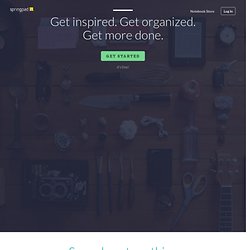 Life's moving so fast. You hear about a great restaurant, a Top 25 bestseller, a luscious recipe and a movie you want to see – but you just want to save it for later. Springpad will instantly enhance and keep on updating what you save with more information. Save a restaurant and we'll give you a map and reviews.
OmniFocus Forum Frequently Asked Questions
Q. Why don't we sort the tasks within a Project? A. We preserve the order you put them into, even for parallel projects. Since the basic priority methodology in getting things done is to put the important tasks at the top of whatever project they're in, we want to preserve that. (You can get a sorted task list in context view, and you can focus context view on particular projects.)