iPad
iPad & Tablet | SeaSucker. Daedalus Touch | The Waltz. Interface 2 for iPhone & iPad - Advanced Mockup & Prototyping for iOS. One-touch mobile access to business documents. The Soulmen | We Got It! › Daedalus touch. FiftyThree. CoPilot Live - Your Best way to Navigate. Your Best Way to Navigate Personal Routes™ Find the best route to any destination with a choice of up to 3 alternate routes, displaying travel time and mileage for each.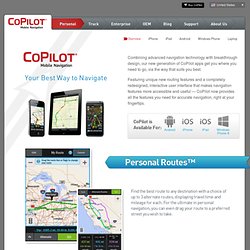 For the ultimate in personal navigation, you can even drag your route to a preferred street you wish to take. Superior Guidance. QED Solver - Calculations have never been this fast or easy! Collaboration | Sleipnir Mobile for iPhone / iPad. Sleipnir Mobile for iPhone/iPad has collaborated with the following iPhone/iPad applications.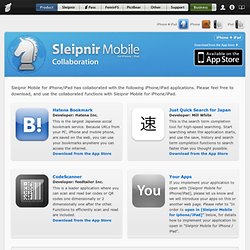 Please feel free to download, and use the collaborated functions with Sleipnir Mobile for iPhone/iPad. Hatena Bookmark Developer: Hatena Inc. This is the largest Japanese social bookmark service. Sleipnir Mobile for iPhone/iPad - Full Screen,Screen-full Gesture Experiences. Integrated Share, Cloud, Read Later Various web services have been integrated into Sleipnir Mobile such as Twitter, Facebook and Dropbox.Whether you are sharing, saving to the cloud,or reading later, by bringing together the web servicesyou often use, you can use them in the same way onyour iPhone or desktop at home.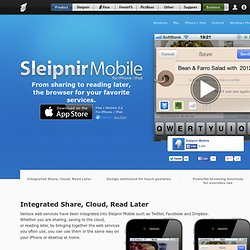 You can change the set to be sentby tapping the icons of the web services.You can also send to multiple services at the same time. Various web services integrated into the browser Fenrir Pass Connect has been prepared for you so that you can use the web services with ease even on your iPhone that once required you to input your account information for each device. Linking is made safe by using OAuth authentication. App of the week for journalists: ExpenseMagic.
App of the week: ExpenseMagic Devices: iPhone, iPad, iPod Touch (Blackberry and Android versions will be available soon) Cost: Free (with options to pay for bookkeeper services)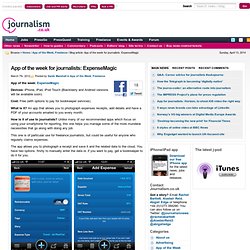 Ten One Design. iAnnotate. MetroView Systems Pty Ltd. Top app for personal organization and social productivity: LifeTopix on iPad, iPhone, iPod touch. Best free iPad apps – our picks each week. iPad apps are, and have always been, a big part of what makes the iPad such a powerful device.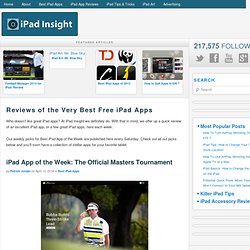 Great apps, and unique apps that you just don't find anywhere else, are one of the hallmark features of the iPad. They have been since Day 1, and scores of great developers and publishers continue to produce apps that are exclusively for the iPad. Our weekly picks for Best iPad App of the Week are published here every Saturday. Pogo Sketch Plus. Show/Hide all answers Which devices are compatible with Pogo Sketch+?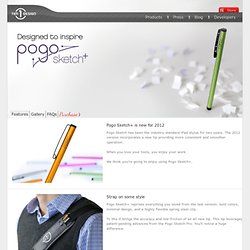 All iPads, iPhones, iPod touch models. Also, all Android phones and tablets made after 2009, HP and RIM tablets are thought to be compatible but are untested. All other phones are incompatible or untested. This means that although the stylus might work just fine, the user experience might not be good. iPad 2 as a serious writing machine (how-to) I knew when I bought the iPad 2 a while back that it would provide a number of uses for me, but I quickly discovered it fills more important roles in my work than I believed it would.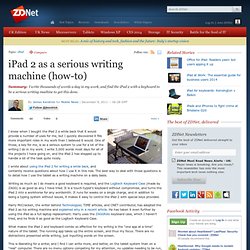 One of those, a key for me, is as a serious system to use for a lot of the writing I do in my work. I write 3,000 words most days for all of the projects I have going on, and the iPad 2 has stepped up to handle a lot of the task quite nicely. I wrote about using the iPad 2 for writing a while back, and contantly receive questions about how I use it in this role. The best way to deal with those questions is to detail how I use the tablet as a writing machine on a daily basis. Writing as much as I do means a good keyboard is required, and the Logitech Keyboard Case (made by ZAGG) is as good as any I have tried.
iPhone | Naturespace. Pear Note 1.0 Review | iPad Productivity App. Description Record everything.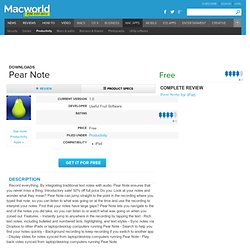 By integrating traditional text notes with audio, Pear Note ensures that you never miss a thing. Essential collections of the best iPhone Apps. Video Comparison Shows Safari on iPad 2 Is Incredibly Fast. When Apple announced the iPad 2 would get a new dual-core processor with improved performances, we all guessed that the device would also get at least double the RAM for much better app management and fast switching.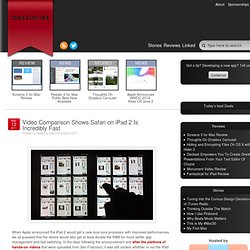 In the days following the announcement and after the plethora of hands-on videos that were uploaded from San Francisco, it was still unclear whether or not the iPad 2′s Safari browser (undoubtedly one of the most-used apps by iPad owners) would be faster and snappier than its iPad 1 counterpart. Many had the feeling that, combining the improved iOS 4.3 with a new processor and more RAM, Safari would highly benefit to reach great performances and stability. This, however, remained a theory even after the reviews posted last week that failed at really showcasing the capabilities of the new Safari. iPad 2 Dominates iPad 1 In Safari Performance. The introduction of the iPad 2 and iOS 4.3 offered some nice enhancements for Safari.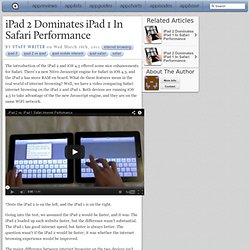 There's a new Nitro Javascript engine for Safari in iOS 4.3, and the iPad 2 has more RAM on board. What do these features mean in the real world of internet browsing? Get MORE From Your iPad – MakeUseOf Best Of iPad Apps! CalPrint for iPad. Description CalPrint uses your existing calendar entries on your iPad (Exchange, iCal and Google Calendars etc) and is not just a great calendar printing utility, it is a fully featured calendar viewing and organizing app that enables you to view, group, ad or edit your appointments and tasks. You can easily get an overview of your schedule by Day, Week, Month or as a list of appointments. ** If you have Print n Share or PrintCentral for iPad - CalPrint is available as an in-app upgrade ** While viewing a days schedule you can tap at the top and a month calendar will drop down enabling you to switch days easily - no more restrictions of only viewing two lines of your schedule like you have today.
Writer 2 Plus | Adonit. Web Browser › Home. E-Workshop's iPad application.
Jot Pro | Adonit. OnLive Desktop - Simple PC App Access from Anywhere. Adonit. Working In Word, Excel, PowerPoint On an iPad - Walt Mossberg - Personal Technology. Although Apple's popular iPad tablet has been able to replace laptops for many tasks, it isn't a big hit with folks who'd like to use it to create or edit long Microsoft Office documents. While Microsoft has released a number of apps for the iPad, it hasn't yet released an iPad version of Office.
There are a number of valuable apps that can create or edit Office documents, such as Quickoffice Pro, Documents To Go and the iPad version of Apple's own iWork suite. But their fidelity with Office documents created on a Windows PC or a Mac isn't perfect. This week, OnLive Inc., in Palo Alto, Calif., is releasing an app that brings the full, genuine Windows versions of the key Office productivity apps—Word, Excel and PowerPoint—to the iPad. The Early Edition 2 | Glasshouse Apps. When The Early Edition launched alongside the original iPad in 2010, it redefined the daily newspaper. Now we're doing it all over again. Just like the original, The Early Edition 2 is a beautiful, up-to-the-minute newspaper that puts you in the editorial seat.
But that's where the similarities end. iPhone 4S Accessories, iPad Accessories, Macbook Accessories, iPod Accessories, MacBook Docks, iPhone Docks | modlife store Australia. Adding Bookmarklets on iPad and iPhone. I made this page out of frustration. There is simply no easy way to add bookmarklets to your iPad or iPhone. I blagged a little about that here.
I don't use Safari on my desktop, so I don't sync my bookmarks to my iDevices. Drawing on the iPad: 12 touchscreen styluses reviewed Review. See how these 12 compare to other styluses: Check out our in-depth iOS stylus charts. Steve Jobs may hate the idea of using a stylus on his touchscreen devices, but the fact remains that some consumers simply prefer an intermediary accessory for interaction. Whether it's too cold outside for direct contact, you're worried about touchscreen germs, or you need a sketching tool, sometimes a stylus can be a good thing.
Accessory manufacturers seem to agree, having produced a plethora of styluses for Apple's iOS devices. As some people know, in my not-so-secret other life, I enjoy drawing cartoons. Since I bought my first iPad back in April 2010, I've been using the device for quite a bit of my scribbling and coloring—most of that with Ten One Design's Pogo Sketch. Powermove Distribution » Specialists in Technology Distribution. GoodNotes | Take Handwritten Notes and Mark up PDFs. iPen: the first active stylus for iPad! by Cregle Inc. ThinkBook.
---