Google
Developer Hardware. Warning: This page is for developers who both know how to build Chromium OS and aren't afraid to take a screwdriver to their computer.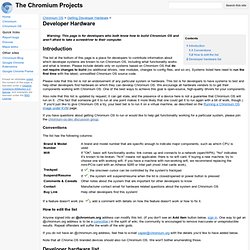 Introduction The list at the bottom of this page is a place for developers to contribute information about which developer systems are known to run Chromium OS, including what functionality works and what is broken. Please include details only on systems based on Chromium OS that do not require changes to build (no additional drivers, new modules, changes to config files, and so on). Systems listed here need to run the first time with the latest, unmodified Chromium OS source code. Please note that this list is not an endorsement of any particular system or hardware. Resellers Program – Google Apps.
Calvetica, The Minimal App That Reinvented Calendars On My iPhone. In my quest to searching for the perfect Google Calendar setup on iOS and OS X, I've already stopped by the gates of miCal, a full-featured calendar software for iPhone that could use some UI refinements, but allows you to swipe between lots of calendar views in seconds. miCal isn't exactly elegant or "great-looking", but it gets the job done.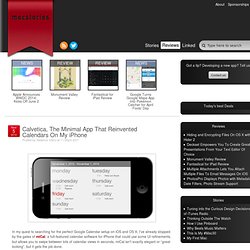 When I first asked on Twitter which was the "app to have" when it comes to calendars, practically everyone replied with one word: Calvetica. What's the deal about Calvetica? Standalone Versions of Google Tasks for iPhone and iGoogle. There's a new interface for Google Tasks, the experiment initially launched as part of Gmail Labs.
Now you can view and edit your tasks on an iPhone by visiting (a shorter URL: gmail.com/tasks). Google also launched an iGoogle gadget that provides similar functionality. Sync task, calendar between iCal and Google account with iGTask for iCal. GTask GTask is a Mac application: Sync task between iCal and Google Task Auto-sync between iCal and Google Task Two-way or one-way sync between iCal and Google Task Run as Mac background app at top right menu bar.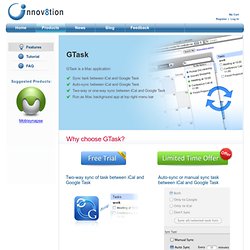 The ultimate backup solution for Google Apps | Backupify. CoolApps. How to Sync Any Desktop Calendar with Google Calendar. Get Started with CalDAV - Google Calendar Help. Sync Google Calendar with Apple's iCal Apple iCal 3.x and up (on Mac OS X v10.5+) support CalDAV sync.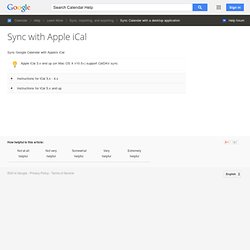 To set up CalDAV support for Google Calendar in Apple's iCal, follow these steps: Open Apple iCal, go to Preferences and then the Accounts tab. Click on the + button to add an account. In the box that pops up, enter a description for the account and your Google Account username and password. 6 Steps to Have Google+ App Installed on iPad, iPad 2, iPod | PressByte. Install Google+ App on iPad or iPod Touch – Google has just officially launched Google+ iPhone app which is available freely from App Store.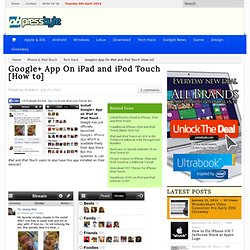 But the question is, can iPad and iPod Touch users to also have this app installed on their devices? Well actually it is now possible to have this App installed on iPad as well as on iPod Touch with a help of iPhone Configuration Utility. Curious? Advanced Tasks - Google Cloud SQL - Google Code.
---