Check Out
Quality Used Cars & Commercial Vehicles For Sale - CityMotorGroup.
MusicHype | The Next Stage. Help Desk Software | Support Ticket System | Zendesk.com. Welcome to Eternal Storms Software. Co Software - The Smart Browser. Apple Hardware. Prism. Tray icon and dock menus When you do something often enough, even a single extra step can be a major hassle.
With Prism, the most common features for an application can be added to a tray icon or dock menu. These features can then be accessed in one step, providing significant time savings. Associate applications with browser links.
Profesional Development
Mac Software. Cloud Computing. GoCal – Your calendar for iPhone/iPad. Applications. Aircreek. Mobile Mouse Lite (Remote/Trackpad) Description Mobile Mouse instantly transforms your iPhone or iPod touch into a free in-air, wireless remote and mouse for your computer!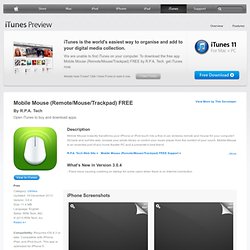 Sit back and surf the web, browse your photo library or control your music player from the comfort of your couch. Mobile Mouse is an essential part of any home theater PC and a presenter's best friend. Features (FREE Version):- Trackpad mouse- Application notifications- Remote keyboard- Modifier Keys- On screen typing- Password protection- Foreign language keyboards- Supports Bonjour or static IP- Ability to hide keyboard (shake to hide/show)- Scroll pad- Left and Right mouse buttons- Multitouch gestures (scroll & right click) There is also a PRO version which features:
---