Ground Beef
Bacon-Wrapped Hamburgers Recipe. Hamburger. My husband makes the best burgers.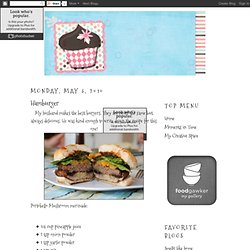 They are never the same but always delicious. He was kind enough to write down the recipe for this one! Portobello Mushroom merinade:1/4 cup pineapple juice2 tsp onion powder1 tsp garlic powder1 tsp saltDirections: Combine the onion powder, garlic powder, and salt with the pineapple juice. Clean the mushrooms with a damp cloth then cut off the stems of the mushrooms and place upside down on a flat surface Pour the mixture over the mushrooms and let them marinade for at least 2 hours. Baked Sloppy Joes Recipe. In a skillet, cook beef, green pepper and onion over medium heat until meat is no longer pink; drain.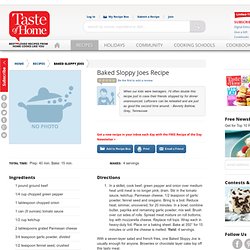 Stir in the tomato sauce, ketchup, Parmesan cheese, 1/2 teaspoon of garlic powder, fennel seed and oregano. Bring to a boil. Reduce heat; simmer, uncovered, for 20 minutes. In a bowl, combine butter, paprika and remaining garlic powder; mix well. Brush over cut sides of rolls. Asian Patties Recipe. Meat Loaf Gyros Recipe. Bacon Swiss Burgers with Tomato and Avocado Recipe at Epicurious. Photo by Ben Fink yield Serves 4 A bacon Swiss burger embellished with ripe tomato and avocado: delectable!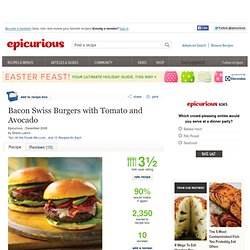 In this burger, I've spiced up the meat with thyme and Worcestershire sauce, which hint at the Mediterranean and at the steak house. In this case, a soft white bun is the best choice—any other type of bun and the burger might become too huge to eat. Cookbook Review Recipe - The Ultimate Burger and Chips. The thing I love about making my own burgers is adding spices and flavors, making the overall flavor profile more exciting than just a regular ol' burger.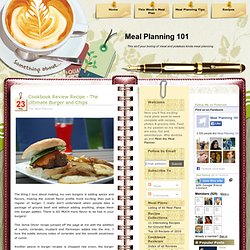 I really don't understand when people take a package of ground beef and without adding anything, shape them into burger patties. There is SO MUCH more flavor to be had in your burgers! This Jamie Oliver recipe jumped off the page at me with the addition of cumin, coriander, mustard and Parmesan added into the mix. I love the subtle lemony notes of coriander and the smooth smokiness of cumin. How to Make Perfect Uniform Hamburger Patties | Savory Sweet Lif. Have you ever walked by the butcher case at your local grocery store and noticed how perfectly uniform the hamburgers they sell are?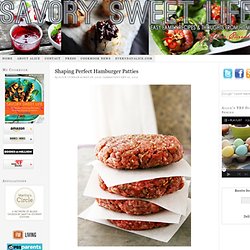 I have. A few months ago my sister and I were walking through Whole Foods and there was a man forming hamburger patties in this thingamajig in the meat department. As I watched him for a few seconds I found a sudden urge to know exactly what that thing was he was using. Craving Good Stuff. Craving a hamburger?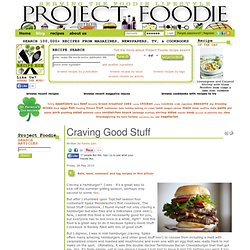 I was - it's a great way to kick-off the summer grilling season, perhaps only second to some ribs. But after I stumbled upon TopChef season four contestant Spike Mendelsohn's first cookbook, The Good Stuff Cookbook, I found myself not only craving a hamburger but also fries and a milkshake (oink oink!). Now, I admit this food is not necessarily good for you, but everyone has to live once in a while, right? And this food is a great way to do it because Spike's Good Stuff Cookbook is literally filled with lots of good stuff. Teriyaki Sauce Recipe | Grilled Teriyaki Pineapple Burgers | Whi.
A while back, we were lamenting about how overly sweet and artificial some bottled teriyaki sauces were.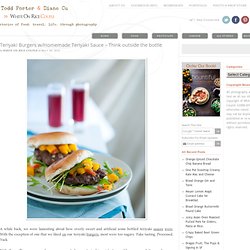 With the exception of one that we liked on our teriyaki burgers, most were too sugary. Fake tasting. Processed. Shepherd's Pie.
---