Food
Recipe Index Breakfast Baked Apples with Spices, Olive Oil and NutsBlueberry and Lavender ButterBrowned Butter and Vanilla Bean BriocheCape Breton OatcakesHomemade Cultured Butter Jamaican Breakfast Soup Mandarin JamPeach and Lemongrass ButterPear-Cardamom Butter Seven-Year Granola Soup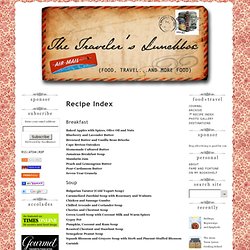 The Traveler's Lunchbox - Recipe Index
10 Ways to Eat Less Meat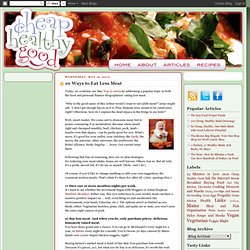 Today, we continue our May Top 10series by addressing a popular topic in both the food and personal finance blogospheres: eating less meat. "Why in the good name of Bea Arthur would I want to eat LESS meat?" some might ask.
Use up Leftovers - 170,000+ Recipes
The 100 easiest, fastest recipes. Ever | Life and style | The Ob
1. Chef Rowley Leigh, Cafe AnglaisPeach, tomato and basil salad Pour boiling water over six white peaches and let stand for 10 to 30 seconds, depending on the ripeness of the fruit. Refresh in cold water and skin.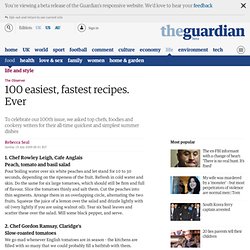 The Minimalist - The Latest Must-Haves for the Pantry - NYTimes.
When it comes to cooking, there's no doubt about it: time is the chief obstacle to getting started. If you're pressed for it, whipping up a three-course meal can seem as overwhelming as running a marathon in a bunny suit. That's why it pays to know some tricks.
10 Cheap Shortcuts to Making Cooking Oh-So-Much Easier
I love to cook at home, but it wasn't always this way. I remember thinking that boiling vegetables and grilling a chicken breast (pre Vegetarian days) was an adventurous task. If I was feeling particularly frisky I would put some black pepper on before cooking… oh la la!! I ate plain and reasonably healthy but didn't cook very exotically not because I did not love exotic food but because I had a fear that it would come out tasting awful. Many people have conveyed this same excuse to me when expressing why they don't cook at home.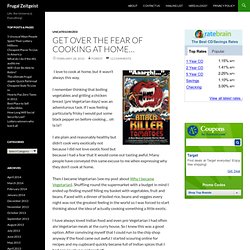 Get Over The Fear Of Cooking At Home…