Barosy
barosy debby
just a person who like a simple thing
Meow Compilation. The Cutest Kitten in the World. Ferrari Millenio by Marko Petrovic & Yanko Design. The Ferrari Millenio, as the name might allude, is a futuristic super-car concept that features a complex combination of materials and technologies that we can hope will become a serious reality before the end of the next millenium.
The two-seater includes a buckypaper reinforced body that is stronger than steel and lighter than carbon fiber as well as dual electric engines that can be recharged via solar panels or through an inductive power transfer system. Designer: Marko Petrovic. Audi R8 GT Spyder News Cars :: News Cars Info. Guy built a Lamborghini in his basement. Toyota GT 86 review. Under the skin it's also unexceptional; MacPherson strut front, with a wishbone rear.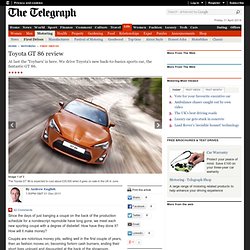 The horizontally-opposed flat-four is from Subaru, the sophisticated port and direct fuel injection is Toyota's. Subaru provides the six-speed manual gearbox (which you want), or a six-speed automatic with paddle shifting (which you don't). 2009 Mansory Cyrus. 2009 Mansory Cyrus Mansory has release the Cyrus package based on the Aston Martin DBS or the Aston Martin DB9.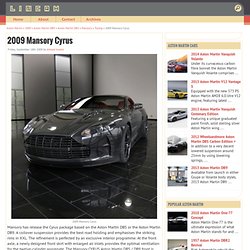 A coilover suspension provides the best road holding and emphasises the striking rims in XXL. The refinement is perfected by an exclusive interior programme. At the front axle, a newly designed front skirt with enlarged air inlets provides the optimal ventilation for the twelve-cylinder aggregate. The Mansory CYRUS Aston Martin DBS / DB9 front is visually enhanced with the newly designed carbon bonnet. 6 Ways Nature Cleans Up Our Messes Better Than We Do. Nature doesn't take punches like she used to.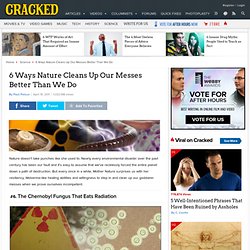 Nearly every environmental disaster over the past century has been our fault and it's easy to assume that we've recklessly forced the entire planet down a path of destruction. But every once in a while, Mother Nature surprises us with her resiliency, Wolverine-like healing abilities and willingness to step in and clean up our goddamn messes when we prove ourselves incompetent. The Chernobyl Fungus That Eats Radiation Most of you reading this article are at least vaguely familiar with the Chernobyl disaster, a clusterfuck of experimentation and negligence that led to the worst nuclear plant disaster in history. It irradiated a huge area around the plant and left the neighboring town of Pripyat so much of a ghost town that we declared it one of the creepiest places on Earth. Ann He - memories. Theo Jansen creates new creatures | Video on TED.com - StumbleUpon. A Cats Christmas. ( 2nd page added!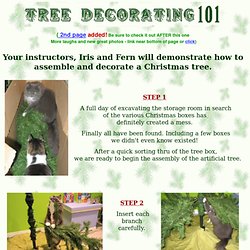 Be sure to check it out AFTER this one More laughs and new great photos - link near bottom of page or click) Your instructors, Iris and Fern will demonstrate how to assemble and decorate a Christmas tree. A special thank-you to our talented girls for their expertise. Now an update ... Please ensure a safe season for your pets.
- StumbleUpon. Www.alleycatphotos.com // Alley Cats...Urban Tails. Best Photos of the Year 2011 | Plog — World, National Photos, Photography and Reportage — The Denver Post - StumbleUpon. Posted Dec 15, 2011 Share This Gallery inShare29 The best photos of 2011 from around the globe.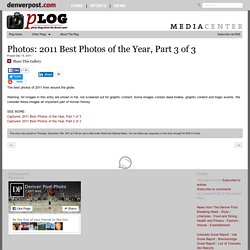 Warning: All images in this entry are shown in full, not screened out for graphic content. Some images contain dead bodies, graphic content and tragic events. We consider these images an important part of human history. Baby chameleons photo | one big photo - StumbleUpon. Random photo Submit your photo Stumble Thru animal photography Tags: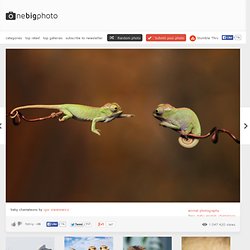 - StumbleUpon. - StumbleUpon. Bent4.jpg (JPEG Image, 445x600 pixels) Image of the Day: Aquarium Phonebooth - Food - GOOD - StumbleUpon. Lighting designer Benoit Deseille and artist Benedetto Bufalino transformed this phone booth in Lyon, France, into an aquarium, as part of the city's annual Festival of Light.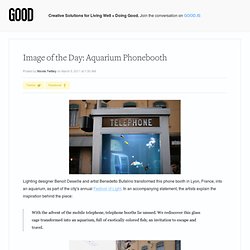 In an accompanying statement, the artists explain the inspiration behind the piece: With the advent of the mobile telephone, telephone booths lie unused. We rediscover this glass cage transformed into an aquarium, full of exotically colored fish; an invitation to escape and travel. Sharpie Art - Extreme Sharpie Artwork at WomansDay.com - Womans Day. Nowadays, Sharpie markers come in more than basic black––they're available in every color of the rainbow, and in just about every size and shape.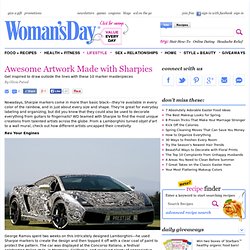 They're great for everyday labeling and organizing, but did you know that they could also be used to decorate everything from guitars to fingernails? WD teamed with Sharpie to find the most unique creations from talented artists across the globe. - StumbleUpon. - StumbleUpon. Looks like good Photography by Navis. - StumbleUpon. e6542bcccf_75247609_o2.jpg from jxs.cz - StumbleUpon. Maj 1112. Photos of Sakurajima volcano ~ Pink Tentacle - StumbleUpon. Week in pictures: 3 - 9 December 2011. Iceland volcano: The best photo ever? Waterfalls.walking.to.work - StumbleUpon. Electricity Sparks New Life Into Indonesias Corals. A weak, harmless voltage run through metallic structures underwater is reviving near-dead reefs.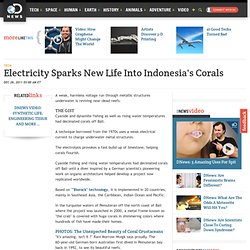 Cyanide and dynamite fishing as well as rising water temperatures had decimated corals off Bali. A technique borrowed from the 1970s uses a weak electrical current to charge underwater metal structures. The electrolysis provokes a fast build-up of limestone, helping corals flourish. Nature charity looking for interns in Norfolk and Suffolk. RSPB volunteer Michelle King, reed-burning on the reserve at Titchwell Nature-lovers hoping to kick-start a career in conservation in the New Year have been offered the chance of an internship working within the region's wildlife havens.
The RSPB is looking for four people with a passion for conservation who can dedicate a year to volunteering on the charity's nature reserves in East Anglia. The residential scheme, which begins in March, will offer enthusiastic interns the chance to work against the backdrop of some of the most nature-rich areas in the country. - StumbleUpon. - StumbleUpon. - StumbleUpon. Marvel at the Magnificent Marble Caves [35 PICS] - StumbleUpon. Color_water_crystal_river_01.
Wind-blown branch kills Washington girl, 9. Chronicle: Primates as prey, predators, competitors of snakes.
Pearltrees videos
Getting started. Humor. ACTUAL AUSTRALIAN COURT DOCKET 12659 -- from Joe Burton - StumbleUpon. Ik3z5. Nothing.
---