Moodle (VLE)
jQuery Mobile | jQuery Mobile. The Training Foundry. Home | Excel with Business - App Design. Partner Benefits - moodle.com. We are looking for more Moodle Partners from all countries around the world.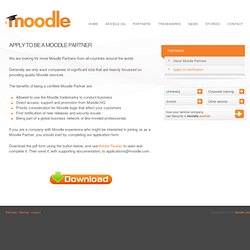 Generally we only want companies of significant size that are heavily focussed on providing quality Moodle services. The benefits of being a certified Moodle Partner are: Home - HowToMoodle - Just ask us... | Moodle Partner | 0845 226 1073. Moodle and e-commerce shopping carts | Lewis Carr. Linking Moodle to a web based shopping cart is easy and requires very little coding to allow users to browse courses, add them to a cart, pay for them, and then automatically gain access to the paid courses on Moodle.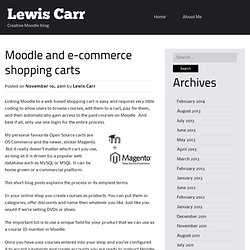 And best if all, only use one login for the entire process. My personal favourite Open Source carts are OS Commerce and the newer, slicker Magento. Usability/Improve Moodle User Experience Consistency. Parent page:Usability Project outcome: Moodle User Interface Guidelines This project will create a a lightweight Human Interface Guidelines style documentation for Moodle, as part of a review of Moodle's overall user interface.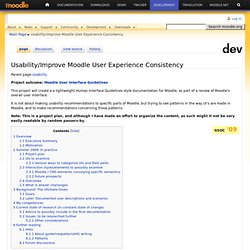 It is not about making usability recommendations to specific parts of Moodle, but trying to see patterns in the way UI's are made in Moodle, and to make recommendations concerning those patterns. Moodle.org: open-source community-based tools for learning. Moodle News | News, Information and Resources for the World's Leading LMS. The Moodleman Blog | News and Views from the MoodleMan. MoodleCommons.org - Free Moodle Courses. Moodle Tutorials ::: Educating Educators. Moodle tutorials (2 Minute Moodles) « Human. Screencasts by sbrandt. Screencast Chatter about sbrandt MikeKjos I shouldn't have said requires, but tells you to follow his directions on the class syllabus.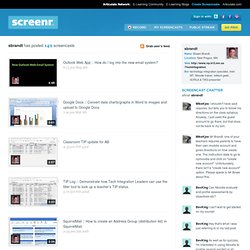 Anyway, I just used the guest account to go there, but that does not tie back to my son.permalink MikeKjos Mr Brandt, one of your teachers requires parents to have their own moddle account and gives directions on how create one. The instruction state to go to npmoodle and click on "create new account".
---