Microsoft Office
KScience
Jefferson County Schools, TN
Printable Board Games Create your own game board such as "Science Time" or "Ms. Questions Game Board". Then you or your students write down questions to use with them game. Pass out one game board to each group of students.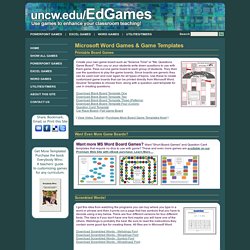 Microsoft Word Games - Board Game Templates by Dr. Jeff Ertzberger UNC Wilmington
Partners in Learning Network
Office Tutorials
The Parade of Games web site was created to provide educators and trainers with easy-to- assemble educational games in a technology- enhanced environment to support key learning points. The site demonstrates the creative use of popular game shows and other familiar games to reinforce learning. Educators and trainers can select and download those PowerPoint games that support your learning objectives and are compatible with the technology capabilities of your learning environment. We hope you enjoy the site and we welcome your feedback.
Home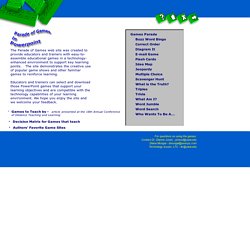 Ribbon Hero 2
E-Learning Course Creation Tool l Microsoft Learning Content Development System (LCDS)
Templates - Presentations, Spreadsheets, Documents, Calendars & More
MS Office 2007 Video Tutorials