Accessibility
Skills In-Sight Initial Assessment Toolkit
The Skills In-Sight toolkit has been developed to provide an accessible process for blind and partially sighted individuals completing the initial assessment for Functional Skills Maths and English. For first time users of the toolkit each individual must create a user account using the following 2 steps. Step 1.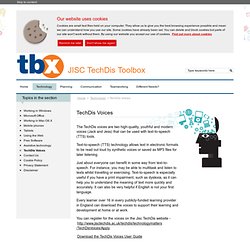 The TechDis voices are two high-quality, youthful and modern voices (Jack and Jess) that can be used with text-to-speech (TTS) tools. Text-to-speech (TTS) technology allows text in electronic formats to be read out loud by synthetic voices or saved as MP3 files for later listening. Just about everyone can benefit in some way from text-to-speech. For instance, you may be able to multitask and listen to texts whilst travelling or exercising. Text-to-speech is especially useful if you have a print impairment, such as dyslexia, as it can help you to understand the meaning of text more quickly and accurately.
tbx - Technology - TechDis Voices
autism.pdf
AutismTeachingTools.com
Welcome to Autism Teaching Tools™. We have been a practical source of information and teaching tips for working with your special learners since 2002. Have fun exploring our site as you look for ways to help your learners with autism and other pervasive developmental disorders. If you are looking for our educational video The Early Learner at Home , please visit our STORE . The Early Learner in German (DVD) is now available at www.Pro-ABA.de.
The Scottish Voice - Scottish computer voice available free to schools and Colleges in Scotland
The Americans are No. 1 for next year's World Cup—when it comes to ticket sales. U.S. purchasers already have bought 93,300 tickets for next year's tournament in South Africa, the head of the local organizing committee said Friday. Danny Jordaan gave a presentation on preparations Friday at the South African Consulate General in New York, and said the 32-nation tournament already is proving doubters wrong.