Accessibility
Skills In-Sight Initial Assessment Toolkit. The Skills In-Sight toolkit has been developed to provide an accessible process for blind and partially sighted individuals completing the initial assessment for Functional Skills Maths and English.
For first time users of the toolkit each individual must create a user account using the following 2 steps. Step 1. Tbx - Technology - TechDis Voices. The TechDis voices are two high-quality, youthful and modern voices (Jack and Jess) that can be used with text-to-speech (TTS) tools.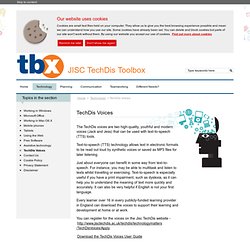 Text-to-speech (TTS) technology allows text in electronic formats to be read out loud by synthetic voices or saved as MP3 files for later listening. Just about everyone can benefit in some way from text-to-speech. For instance, you may be able to multitask and listen to texts whilst travelling or exercising. Text-to-speech is especially useful if you have a print impairment, such as dyslexia, as it can help you to understand the meaning of text more quickly and accurately. Autism.pdf. AutismTeachingTools.com. JISC Techdis - Home. The Scottish Voice - Scottish computer voice available free to schools and Colleges in Scotland.
Free text to speech software with Natural Voices-- Free NaturalReader.
---